Dynamics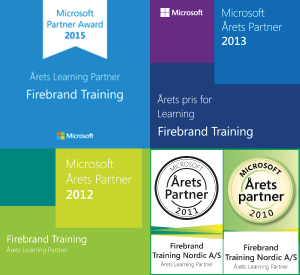 Välkommen till vår Microsoft Dynamics kurs- och certifieringsprogram. Firebrand Training är den ledande leverantören av teknisk utbildning inom Dynamics och oavsett vilken certifiering du söker inom Dynamics, kommer du att hitta en relevant utbildning här.
Om du är intresserad i din karriär ger en Dynamics certifiering dig ett stort erkännande av dina kunskaper inom specifika områden av Dynamics. Men oavsett vilka mål du har med din Microsoft Dynamics kurs , ger en Dynamics certifiering dig de kunskaper du behöver - snabbt! Vi har många riktigt nöjda kursdeltagare, en hög nivå av deltagare som klarar sin certifiering, många års erfarenhet och har dessutom fyra år i rad erhållit priset som Microsoft Learning Partner of the Year av Microsoft Danmark.
Du kan lita på att våra Microsoft Dynamics kurs-och certifieringsprogram, och givetvis våra andra utbildningsprogram, kombinerar de bästa instruktörerna och resurserna för att optimera din utbildningsupplevelse. Oavsett om du arbetar med Dynamics i dag eller om du vill ge din karriär en skjuts framåt inom ett nytt område är våra Dynamics kurser och certifieringar det bästa alternativet. Men lyssna inte bara till vad vi säger, se även vad våra kunder säger : Kundreferenser .
Mer än 11.000 organisationer i Europa använder för närvarande Microsoft Dynamicslösningar. Det är mer än 500.000 användare som behöver stöd från certifierade Dynamics proffs.
Så vad väntar du på? Ta tillfället i akt att utöka dina karriärmöjligheter med en Microsoft Dynamics certifiering. Lägg särskilt märke till det breda utbudget av Dynamics AX 2012 kurser . Det finns många att välja på och du är mer än välkommen att kontakta oss om du behöver råd.
Microsoft Dynamics Certifiering