AWS Certification Training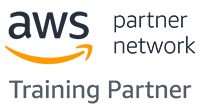 Amazon Web Services (AWS) is a flexible and scalable cloud platform, and one of the most popular suites of distributed applications in the world. Amazon is a powerhouse innovator, and their cutting-edge cloud offering has set the standards for the entire sector.
What is AWS?
AWS is comprised of over 170 services, most notably computing, storage, networking, data centres, machine learning, and analytics. Of these, Amazon Elastic Compute Cloud (EC2) and Amazon Simple Storage Service (Amazon S3) are arguably the most popular cloud services, forming the backbone of modern enterprise-level cloud infrastructures.
AWS Certifications
AWS learning paths comprise foundational, associate and professional level, plus specialty certifications. All paths are optimally designed to teach you how to build highly available, cost-effective and secure applications on the platform.
Benefits of the AWS Certification
The benefits of a certification include:
Productivity increase in enterprise environments
High salaries in a high-demand, growing sector
Knowledge of most up-to-date best practices in cloud technology
Highly transferrable skills across industries in any vertical
With the cloud evolving at breakneck speed, this certification is the ultimate proof that you're up-to-date with the best and latest of the technology.
How to Become AWS Certified
All certifications require you to take the corresponding official AWS exam, and are valid for three years from accreditation. After this period is over, you should go through recertification to ensure you're up to date with the latest technology - please contact us for this.
To maximise your chances and pass the exam as fast as possible, we have applied our trademark accelerated training method for Amazon Web Services. Firebrand accelerated courses take you to your AWS qualification up to 50% faster than traditional courses.
Online AWS Training
With Firebrand, you'll learn how to deploy, manage and operate on the Amazon cloud platform to suit your business' needs. We offer both classroom-based and online AWS training courses, including everything you need to get certified in record time:
Official courseware, labs and practice exams
AWS Certification exam
Accommodation, meals and snacks (for residential courses)