ITIL Zertifizierungen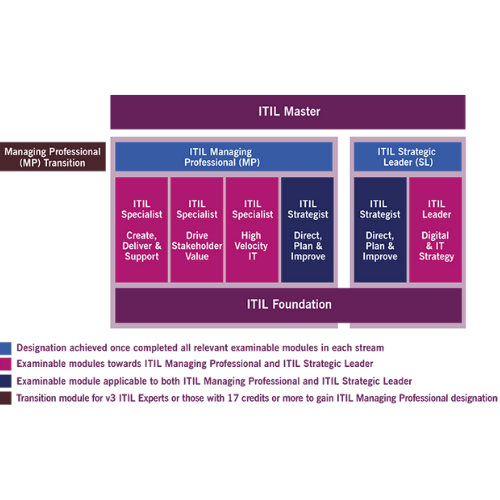 Warum Sie ITIL lernen sollten
ITIL (IT Infrastructure Library®) ist die einzige konsistente und umfassende Dokumentation von Best Practices für das IT Service Management. Sie wird von Tausenden von Organisationen auf der ganzen Welt eingesetzt.
Sie lernen die relevanten IT-Praktiken, Aufgaben und Verfahren, die auf Ihre Organisation zugeschnitten sind. Unsere Kurse werden von ITIL-Beratern durchgeführt - Experten, die täglich mit ITIL arbeiten. Ihr Schulungsberater wird Sie unterstützen:
Steigern Sie die Kundenzufriedenheit
Verbesserung der Serviceverfügbarkeit und der Durchlaufzeiten
Verbesserung der Time-to-Market für Ihre Produkte
Präsenz- oder Online-ITIL-Schulung
Wir bieten sowohl Präsenz- als auch ITIL-Online-Schulungen an, die alles beinhalten, was Sie brauchen, um in Rekordzeit zertifiziert zu werden:
Offizielle Kursunterlagen, Labor und Übungsprüfungen
ITIL-Zertifizierungsprüfung
Unterkunft, Mahlzeiten und Snacks (bei Kursen vor Ort)
Bauen Sie Ihren eigenen ITIL Pfad
Wir bieten mehr als zehn ITIL-Kurse an, darunter Foundation, Service Capability, Service Lifecycle und Managing Across the Lifecycle. Sie können sich Ihren eigenen ITIL-Kurs zusammenstellen, basierend auf Ihren spezifischen Anforderungen. Sprechen Sie mit uns, um zu sehen, wie Sie ITIL doppelt so schnell lernen können.
Thynk ATO of AXELOS Limited offers the ITIL® Foundation and Practitioner Version 4 and ITIL® Foundation Certification (ITIL 4) courses on this page. These courses are a registered trade mark of AXELOS Limited. All rights reserved.
ITIL® is a Registered Trade Mark of AXELOS Limited.
Note: These ITIL® courses are provided in conjunction with Thynk an AXELOS accredited training organisation.