Overview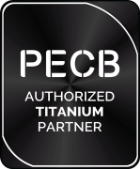 The ISO 9001 Lead Implementer is a PECB (Professional Evaluation and Certification Board) official course.
Get the skills needed to support your organisation in implementing and managing a Quality Management System (QMS), based on ISO 9001:2015.
In three days, you'll learn the fundamental quality management principles, concepts and best practices. You'll also learn how to evaluate, monitor and measure your QMS, and how to maintain continuous improvement.
Maybe you're preparing for a QMS certification audit? If so, this course will teach you how to achieve that accreditation.
How to become a Lead Implementer faster than anywhere else
This course is 40% faster than traditional training, and has been developed in-line with:
ISO 10006: Quality management systems - Guidelines for quality management in projects
ISO 9004: Guidelines for managing the sustained success of an organisation - A quality management approach
As of March 2023, PECB have partnered with Credly to offer you the chance of earning a digital badge upon completing your certification.
You'll get one year's free membership of PECB (Professional Evaluation and Certification Board) - which usually costs around £250. You can also apply for the following certifications, depending on your level of experience:
Certified ISO 9001 Provisional Implementer
Certified ISO 9001 Implementer
Certified ISO 9001 Lead Implementer