ISACA Training Courses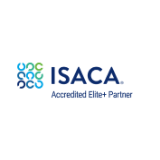 ISACA is an independent association responsible for the development of globally-accepted practices for information systems.
ISACA's certifications are considered among the highest standard of achievement for professionals who audit information technology, manage information security teams or are responsible for governance in enterprise IT.
Accelerated ISACA training courses
Get the skills you need to protect your IT systems and data, twice as fast as traditional training. Firebrand is an ISACA Elite+ Partner. Across Europe and the US, no other partner trains more students.
With Firebrand you'll get access to the full range of ISACA certifications. Uniquely with Firebrand, you'll sit your official exam during your course, just steps away from your classroom. Get certified in just days, not months.