Overview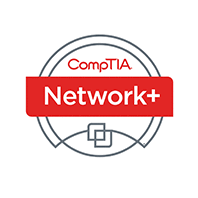 Achieve your Network+ certification in just three days – that's 40% faster than traditional training. On this accelerated Network+ course, you'll study official CompTIA curriculum and take your Network+ exam onsite at the Firebrand Training Centre.
Developed by CompTIA, the Network+ is a vendor-neutral and globally recognised certification. This certification proves you have the knowledge needed to start a career in networking.
On this accelerated CompTIA Network+ course, you'll learn how to configure, manage and troubleshoot common wired and wireless networks. You'll also study emerging technologies, like mobile, cloud and virtualisation, and cover the five key areas of the Network+ curriculum:
Networking Concepts
Infrastructure
Network Operations
Network Security
Network Troubleshooting and Tools
Train at twice the speed on this official CompTIA course
Firebrand is an Authorised CompTIA Platinum Partner. This means you'll get access to experienced instructors and up-to-date course material, officially approved by CompTIA. During your CompTIA Network+ training, you'll also sit your official Network+ exam.
Are you aiming to achieve the CompTIA A+ and Network+ certifications quickly? Get both certifications in just one week with Firebrand's combined A+ and Network+ course.
Seven reasons why you should sit your course with Firebrand Training
Two options of training. Choose between residential classroom-based, or online courses
You'll be certified in just 3 days. With us, you'll be trained in record time
Our course is all-inclusive. A one-off fee covers all course materials, exams, accommodation and meals. No hidden extras
Pass first time or train again for free. This is our guarantee. We're confident you'll pass your course first time. But if not, come back within a year and only pay for accommodation, exams and incidental costs
You'll learn more. A day with a traditional training provider generally runs from 9am – 5pm, with a nice long break for lunch. With Firebrand Training you'll get at least 12 hours/day quality learning time, with your instructor
You'll learn faster. Chances are, you'll have a different learning style to those around you. We combine visual, auditory and tactile styles to deliver the material in a way that ensures you will learn faster and more easily
You'll be studying with the best. We've been named in Training Industry's "Top 20 IT Training Companies of the Year" every year since 2010. As well as winning many more awards, we've trained and certified 113,703 professionals, and we're partners with all of the big names in the business