Overview
The Cisco Certified Specialist - Security Core certification is offered as 5 days in-classroom modules, and a required 3 days self-study modules. Train with Firebrand, and you'll cover all modules over a total of just 6 days, including sitting Exam 350-701 SCOR. Get certified with Firebrand at 33% faster than traditional training.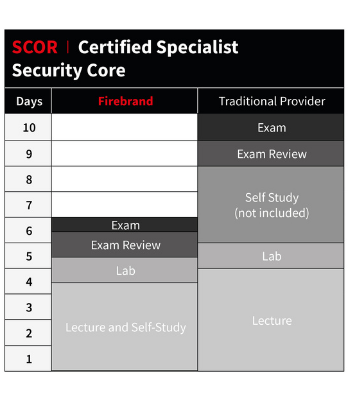 On this accelerated Cisco Certified Specialist - Security Core certification, you'll prepare for the Cisco CCNP Security and CCIE Security certifications. These certifications qualify your expert-level role in security technologies.
In just 6 days, you'll learn how to implement and operate core security technologies including network security, cloud security and content security. You'll also learn how to:
Compare common security vulnerabilities like software bugs, SQL injection, missing encryption, buffer overflow, path traversal, cross-site scripting/forgery
Compare the components, capabilities, and benefits of local and cloud-based email and web solutions (ESA, CES, WSA)
Describe identity management and secure network access concepts such as guest services, profiling, posture assessment and BYOD
At the end of your course, you'll sit exam 350-701 SCOR: Implementing and Operating Cisco Security Core Technologies v1.0 and achieve the Cisco Certified Specialist - Security Core certification. You'll get access to official courseware and learn from certified instructors, as Firebrand is a Cisco Learning Partner.
Start your Cisco journey in a distraction-free environment and learn at twice the speed through Firebrand's Lecture | Lab | Review methodology.
Audience
This course is ideal for:
Security engineers
Network engineers
Network designers
Network administrators
Systems engineers
Consulting systems engineers
Technical solutions architect
Cisco integrators/partners
Network managers
Next step: CCNP Security or CCIE Security certifications
Once you have achieved your Cisco Certified Specialist - Security Core certification, pass any of the following Cisco concentration exams to get your CCNP Security certification:
300-715 SISE: Implementing and Configuring Cisco Identity Services Engine (SISE)
300-730 SVPN: Implementing Secure Solutions with Virtual Private Networks (SVPN)
300-735 SAUTO: Implementing Automation for Cisco Security Solutions (SAUI)
Or, if you're aiming for the CCIIE Security certification, you'll need to complete the CCIE Security v6.0 Lab exam, where you'll design, deploy, operate and optimise complex security solutions and technologies.