Overview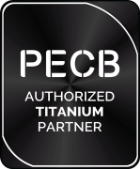 The ISO 27001 Lead Implementer course is a PECB (Professional Evaluation and Certification Board) official course. The three-day intensive course will help you develop the skills needed to implement an Information Security Management System (ISMS), as specified in ISO/IEC 27001:2022.
PECB is officially accredited under ISO 17024 from ANSI. They are the first personnel certification body to be accredited by a National Accreditation Authority.
This training is consistent with the good practices established by the Project Management Institute (PMI) and ISO 10006:2003 (Quality Management Systems - Guidelines for Quality Management in Projects). The course is fully compatible with:
ISO/IEC 27003:2009 (Guidelines for the Implementation of an ISMS)
ISO/IEC 27004:2009 (Measurement of Information Security)
ISO/IEC 27005:2022 (Risk Management in Information Security)
As of March 2023, PECB have partnered with Credly to offer you the chance of earning a digital badge upon completing your certification.
In addition, you will also get one year free PECB membership (Professional Evaluation and Certification Board) – which usually costs around £250 and be able to apply for the following titles depending on your experience:
Certified ISO/IEC 27001 Provisional Implementer
Certified ISO/IEC 27001 Implementer
Certified ISO/IEC 27001 Lead Implementer
Certified ISO/IEC 27001 Senior Lead Implementer
PECB Master Certification
More information on these credentials and what is required to achieve them can be found in the prerequisites section below.
Residential or Online ISO 27001 Lead Implementer course?
Firebrand offers both a classroom-based and ISO 27001 Lead Implementer online course, including everything you need to get certified in record time:
Official courseware, labs and practice exams
ISO 27001 Lead Implementer certification exam
Accommodation, meals and snacks (for residential courses)
Both are delivered through our tried and tested Lecture | Lab | Review methodology. Firebrand accelerated methodology offers you the opportunity to choose the best delivery option for your needs and get your certification faster than anywhere else.