(ISC)2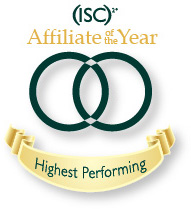 Bäst presterande partner
Firebrand Training har blivit utnämnd till "Highest Performing Affiliate of the Year – EMEA" av (ISC)2. (ISC)2 hjälper företag att erkänna organisationer och individer som är kunniga inom IT-säkerhet genom sina CISSP, CSSLP och SSCP certifieringar.
Firebrand Training är en auktoriserad leverantör av (ISC)2 certifieringar. W. Hord Tipton,direktör på (ISC)2 säger:
"Denna utmärkelse erkänner Firebrand Training som den bäst presterande partnern för (ISC)2 inom hela EMEA regionen".
| | | | |
| --- | --- | --- | --- |
| | | 6 Dagar | |
| | | 6 Dagar | |
| | | 5 Dagar | |
| | | 7 Dagar | |
| | | 3 Dagar | |
| | | 5 Dagar | |
| | | 5 Dagar | |