Overview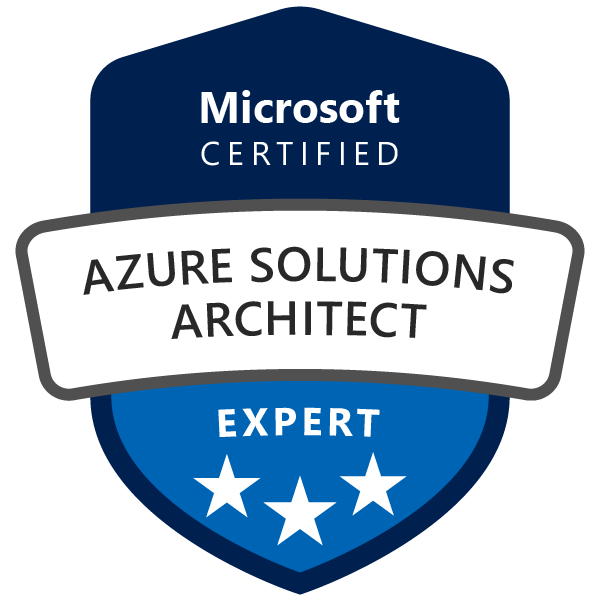 On this accelerated Microsoft Certified: Azure Solutions Architect Expert course, you'll get the skills you need as an Azure Solutions Architect to implement, monitor and maintain Azure solutions - from implementation of virtual machines to designing API integration strategies. You'll also gain expert understanding of service capabilities within the Microsoft Azure cloud.
In just 7 days, you'll also learn how to:
Deploy and configure infrastructure
Implement workloads and security
Create and deploy apps
Implement authentication and secure data
Develop for the cloud and for Azure storage
Determine workload requirements
Design for identity and security
Design a data platform solution
Design a business continuity strategy
Design for deployment, migration, and integration
Design an infrastructure strategy
You'll be immersed in the curriculum and have 24/7 lab access with Firebrand's unique Lecture | Lab | Review methodology, helping you to build and retain information faster.
You'll get access to Microsoft Official Courseware (MOCs) and learn from certified Microsoft trainers MCTs) as Firebrand are a Microsoft Gold Partner for Learning.
You'll also be prepared for Exam AZ-104: Microsoft Azure Administratorand Exam AZ-305: Designing Microsoft Azure Infrastructure Solutions. You'll sit these exams during the course, covered by your Certification Guarantee.
Audience
If you're an Azure Administrator who manages cloud services that span across a variety of cloud capabilities, this course is ideal for you.
Certification path
You also have the option of taking the exams separately. Once you've completed both you'll automatically achieve the Microsoft Certified: Solutions Architect Expert certification:
Residential and online Microsoft's Azure Solutions Architect Expert training
Firebrand offers both a classroom-based and Microsoft Azure solutions architect expert online course, including everything you need to get certified in record time:
Official courseware, labs and practice exams
AZ-104: Microsoft Azure Administratorand AZ-305: Designing Microsoft Azure Infrastructure Solutions certification exams
Accommodation, meals and snacks (for residential courses)
Zeven redenen waarom jij voor jouw Azure Solutions Architect cursus voor Firebrand kiest:
Jij zal in slechts 7 dagen Azure Solutions Architect gecertificeerd zijn. Doordat onze cursussen residentieel zijn kunnen wij langere lesdagen aanbieden en zal je tijdens je verblijf volledig gefocust zijn op jouw cursus
Onze Azure Solutions Architect cursus is all-inclusive. Cursusmaterialen, accommodatie en maaltijden zijn inbegrepen.
Slaag de eerste keer voor Azure Solutions Architect of train gratis opnieuw.Op basis van onze certificeringsgarantie kun je voor het geval je de eerste keer niet slaagt binnen een jaar terugkomen en opnieuw trainen. Je betaalt dan alleen voor accommodatie en examens. De andere kosten zijn inbegrepen.
Je zal meer over Azure Solutions Architect leren. Waar opleidingen elders doorgaans van 9:00 tot 17:00 duren, kan je bij Firebrand Training rekenen op 12 uur training per dag!
Je zal Azure Solutions Architect sneller beheersen. Doordat onze cursussen residentieel zijn word je in korte tijd ondergedompeld in de theorie. Hierdoor zal je volledig gefocust zijn op de cursus en zal je sneller de theorie en praktijk beheersen.
Je zal voor Azure Solutions Architect studeren bij de beste training provider. Firebrand heeft het Q-For kwaliteitlabel, waarmee onze standaarden en professionaliteit op het gebied van training erkend worden. We hebben inmiddels 125505 professionals getraind en gecertificeerd!
Je gaat meer doen dan alleen de cursusstof van Azure Solutions Architect bestuderen. We maken gebruik van laboratoria, case-studies en oefentests, om ervoor te zorgen dat jij jouw nieuwe kennis direct in jouw werkomgeving kan toepassen.