Overzicht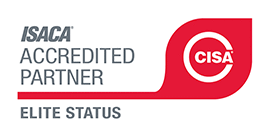 Behaal jouw CISA-certificering en slaag in slechts vier dagen voor jouw CISA-examen op deze versnelde cursus van Firebrand. Bewijs jouw auditkennis op internationaal niveau met de CISA, wereldwijd erkend als de gouden standaardcertificering voor professionals op het gebied van IS-auditcontrole, assurance en beveiliging.
Tijdens deze versnelde vierdaagse CISA-cursus krijg je de auditkennis en -vaardigheden die je nodig hebt om kwetsbaarheden te identificeren, over compliance te rapporteren en controles in een onderneming te introduceren. Je wordt ondergedompeld in deze cursus door Firebrand's (Lab | Lecture | Review)TM leverings methode:
Domain 1 - The Process of Auditing Information Systems
Domain 2 - Governance and Management of IT
Domain 3 - Information Systems Acquisition, Development and Implementation
Domain 4 - Information Systems Operations and Business Resilience
Domain 5 - Protection of Information Assets
Je gaat ook verder dan het officiële curriculum als je de kennis opdoet die nodig is om te slagen voor je CISA-examen, dat je in het Firebrand Training Center gaat doen.
Deze versnelde CISA training is ideaal als je werkt in audits, consultancy of management van IT-systemen - vooral als je een hogere managementfunctie bekleedt of nastreeft.
Exclusief: leg uw CISA-examen af ​​op deze versnelde cursus
Firebrand is an ISACA Accredited Training Organisation (ATO). This means you'll have access to official ISACA courseware and will sit your CISA exam at the Firebrand Training Centre during your accelerated course. If you don't pass your CISA exam first time, don't worry, you'll be covered by your Certification Guarantee.
Firebrand is a premier ISACA partner for EMEA and the US. No other partner in these regions trains more students.
The International Accreditation Service (IAS) has accredited the CISA certification program under ISO/IEC 17024:2012, General Requirements for Bodies Operating Certification Systems of Persons.
Zeven redenen waarom jij voor jouw CISA cursus voor Firebrand kiest:
Jij zal in slechts 4 dagen CISA gecertificeerd zijn. Doordat onze cursussen residentieel zijn kunnen wij langere lesdagen aanbieden en zal je tijdens je verblijf volledig gefocust zijn op jouw cursus
Onze CISA cursus is all-inclusive. Cursusmaterialen, accommodatie en maaltijden zijn inbegrepen.
Slaag de eerste keer voor CISA of train gratis opnieuw. Vraag naar de voorwaarden van onze certificeringsgarantie bij onze Education Consultants.
Je zal meer over CISA leren. Waar opleidingen elders doorgaans van 9:00 tot 17:00 duren, kan je bij Firebrand Training rekenen op 12 uur training per dag!
Je zal CISA sneller beheersen. Doordat onze cursussen residentieel zijn word je in korte tijd ondergedompeld in de theorie. Hierdoor zal je volledig gefocust zijn op de cursus en zal je sneller de theorie en praktijk beheersen.
Je zal voor CISA studeren bij de beste training provider. Firebrand heeft het Q-For kwaliteitlabel, waarmee onze standaarden en professionaliteit op het gebied van training erkend worden. We hebben inmiddels 134561 professionals getraind en gecertificeerd!
Je gaat meer doen dan alleen de cursusstof van CISA bestuderen. We maken gebruik van laboratoria, case-studies en oefentests, om ervoor te zorgen dat jij jouw nieuwe kennis direct in jouw werkomgeving kan toepassen.