Überblick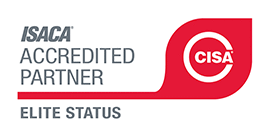 Erhalten Sie Ihre CISA Zertifizierung – bestehen Sie die Prüfung in nur vier Tagen in diesem Intensivkurs von Firebrand. Belegen Sie Ihr Wissen auf internationaler Ebene mit CISA, der weltweit als Goldstandard bekannten Zertifizierung für IS Audit Control, Assurance und Security Control.
In diesem 4-tägigen Intensivkurs erhalten Sie die Auditing-Fähigkeiten und –Fertigkeiten, die Sie benötigen, um Schwachstellen zu identifizieren, Compliance-Berichte zu erstellen und Kontrollen in einem Unternehmen einzuführen. Sie werden mithilfe Firebrands einzigartiger Lecture | Lab | Review in den Kurs eintauchen, während Sie die fünf CISA-Domains studieren:
Domain 1 – The Process of Auditing Information Systems
Domain 2 – Governance and Management of IT
Domain 3 – Information Systems Acquisition, development and Implementation
Domain 4 – Information Systems Operations and Business Resilience
Domain 5 – Protection of Information Assets
Ihr Wissen wird über den offiziellen Lehrplan hinausgehen, welches Sie benötigen, um Ihre CISA-Prüfung zu bestehen, die Sie im Firebrand Trainingscenter ablegen.
Dieses CISA Intensivtraining ist ideal für Sie, wenn Sie im Bereich des IT Systems Auditing, der Beratung oder im Management von IT-Systemen tätig sind – insbesondere dann, wenn Sie über eine leitende Position verfügen oder anstreben.
Präsenz- oder Online-Training
Firebrand bietet sowohl klassenzimmerbasierte als auch CISA Online Kurse an, inklusive allem, was Sie benötigen, um Ihre Zertifizierung in Rekordzeit zu erhalten:
Offizielle Kursmaterialien, Übungen und praktische Prüfungen
CISA Zertifizierungsprüfung
Unterkunft und Verpflegung (für Präsenzkurse)
Beide Formate werden mithilfe unserer Lecture | Lab | Review Methode unterrichtet. Ihren Bedürfnissen entsprechend können Sie die für sich beste Variante auswählen und Ihre Zertifizierung in kürzester Zeit erhalten.
Exklusiv: Legen Sie Die CISA-Prüfung während des Kurses ab
Firebrand ist eine von ISACA akkreditierte Ausbildungsorganisation (ATO). Dies bedeutet, dass Sie Zugriff auf offizielle ISACA-Kursunterlagen haben und Ihre CISA-Prüfung während des Kurses im Firebrand Trainingscenter ablegen können. Sie brauchen sich keine Sorgen machen, wenn Sie die Prüfung nicht beim ersten Versuch bestehen. Unsere Leistungsgarantie sichert Sie ab – Sie trainieren erneut kostenlos.
Firebrand ist ein führender ISACA Partner für EMEA und die USA. Kein anderer Partner bildet in diesen Regionen mehr Studenten aus.
Vier Gründe, warum Sie Ihren CISA Kurs bei Firebrand Training ablegen sollten:
Lernen Sie CISA in Rekordzeit. Erlangen Sie Ihre CISA Zertifizierung in nur 4 Tagen durch mind. 10 Stunden/Tag qualitativ hochwertige interaktive Unterrichtszeit in einer ablenkungsfreien Lernumgebung.
Unser CISA Kurs umfasst ein All-Inklusive-Paket. Enthalten sind Kursunterlagen, Prüfung, Unterkunft und Verpflegung - damit Sie sich ganz auf das Lernen konzentrieren können.
Bestehen Sie Ihre CISA Prüfung auf Anhieb. Unsere praxiserfahrenen Trainer kombinieren visuelle, auditive und taktile Methoden, damit Sie Ihre Zertifizierung auf Anhieb erlangen. Falls nicht, können Sie den Kurs innerhalb eines Jahres wiederholen und zahlen nur für Unterkunft, Verpflegung und Prüfung (AGB – Firebrand Leistungsgarantie).
Lernen Sie mit einem mehrfach ausgezeichneten Trainingsanbieter. Firebrand ist der effiziente Weg zur Zertifizierung: Bereits 134561 Teilnehmer haben über eine Million Trainingsstunden seit 2001 gespart.