Überblick
Erlangen Sie in nur drei Tagen die ECIH v2-Zertifizierung (EC-Council Certified Incident Handler) und erwerben Sie die Fähigkeiten, die Sie benötigen, um ein Experte in Sachen Incident-Management, -Behandlung und -Reaktion zu sein.
Die ECIH-Zertifizierung entspricht zu 100 % den NICE 2.0 & CREST Frameworks und ist international anerkannt. Dadurch erhalten Sie eine wertvolle Bestätigung Ihrer Kenntnisse im Incident Management. In diesem praktischen Kurs Intensivkurs lernen Sie, wie Sie Cyberangriffe erkennen, steuern und beheben können.
Erhalten Sie mehr Trainingszeit als in einem gewöhnlichen Kurs, der zwischen 9 und 17 Uhr stattfindet. Durch Firebrands Lecture | Lab | Review Methode verbringen Sie mehr Zeit mit dem Übung von Techniken und der Erkennung und Reaktion auf akutelle Cyber Security Bedrohungen.
In diesem ECIH Intensivkurs lernen Sie Folgendes: :
strukturiert Ereignisbehandlung und Verfahren für die Reaktion auf Vorfälle
Forenische Bereitschaft, Beweiserhebung und Analyse
Incident-Validierung, Eskalationsverfahren und Erstellung von Incident-Berichten
Incident Containment und Systemwiederherstellung
Sie legen die ECIH Prüfung während des Kurses, nur wenige Schritte vom Klassenzimmer entfernt, ab. Als offizieller Partner lernen Sie von EC-Council ECIH zertifizierten Trainern und profitieren von offiziellen EC-Council Kursmaterialien und Übungen.
Dieser ECIH Kurs ist perfekt für Sie, wenn Sie Incident Handler, Risikobewertungsadministrator, Pen-Tester, Cyber Forencsic Investigator, Venerability Assessment Auditor, Systemadministrator, Systemingenieur, Firewall-Administrator oder Netzwerkmanager tätig sind.
ECIH v2 wurde mithilfe einer Job-Task-Analyse erstellt, die sich auf die Vorfallbehandlung und Vorfall-Ersthelfer-Rollen bezieht und die branchenweiten Standards für die Vorfallbehandlung erfüllt.
Zum neunten Mal Accredited Training Centre of the Year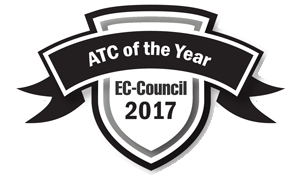 Firebrand Training hat erneut die Auszeichnung "Accredited Training Centre of the Year" von EC-Council gewonnen. Die Auszeichnung wird jedes Jahr unter allen EC-Council Partnern vergeben. Das EC-Council Trainingspartner Netzwerk umfasst mehr als 700 Trainingscenter in über 107 Ländern weltweit. Die Erfolgsserie von Firebrand erhöht sich damit auf neun Jahre in Folge.
Jay Bavisi, Präsident von EC-Council: "Die jährlichen EC-Council Awards würdigen das Engagement und die Leistungen unserer globalen Partner und Trainer, welche maßgeblich zur Informationssicherheits-Community beigetragen haben."