ITIL®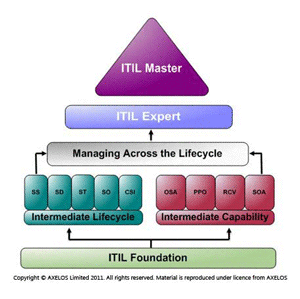 Waarom u ITIL moet leren
ITIL (IT Infrastructure Library®) is de enige consistente en uitgebreide documentatie van 'best practice' voor IT Service Beheer. Het wordt gebruikt door duizenden organisaties wereldwijd.
U zult de relevante IT praktijkhandelingen, taken en procedures leren kennen. Alles toegepast op uw eigen organisatie. Onze cursussen worden gegeven door ITIL consultants - experts die dagelijks met ITIL werken. Uw training consultant helpt u om:
Klanttevredenheid te vergroten
Beschikbaarheid van diensten te verbeteren
Doorlooptijden van uw producten te verbeteren
Bouw uw eigen cursus
We geven meer dan tien ITIL cursussen, zoals Foundation, Service Capability, Service Lifecycle en Managing Across the Lifecycle. U kunt uw eigen ITIL cursus samenstellen, gebaseerd op uw specifieke wensen. Neemt contact met ons op om te zien hoe u ITIL in de helft van de tijd kunt leren.
ITIL® is a Registered Trade Mark of AXELOS Limited.
Note: These ITIL® courses are provided in conjunction with Thynk an AXELOS accredited training organisation.