Overview

Some 80% of all security breaches are application-related, equating to more than 226 million records being disclosed and fines reaching astronomical amounts.
Firebrand Training and ISC2 provide a solution that establishes industry standards and instils best practices in developing, managing and maintaining software security.
This accelerated CSSLP (Certified Secure Software Lifecycle Professional) course provides IT professionals with a fully-immersed, zero-distraction, all-inclusive CSSLP training experience. Our CSSLP course encompasses all domains of the ISC2 CSSLP CBK, all meals, and accommodation.
Who is this course suitable for?
Everybody with at least 4 years of experience in the SLC needs CSSLP certification, including:
Software developers
Engineers and architects
Project managers
Software QA
QA testers
Business analysts and
The professionals who manage these stakeholders.
On this course, you'll prepare for and sit the CSSLP exam, covered by your Certification Guarantee.
The CSSLP certification is governed by the International Information Systems Security Certifications Consortium ISC2.
The key advantage of authorised ISC2 Institute Training is fundamental: The institute's goal is to provide an extensive overview of the Common Body of Knowledge (CBK), the compendium of practices and standards compiled and continually updated by ISC2 and used as the basis for the CSSLP exam.
Highest Performing Affiliate of the Year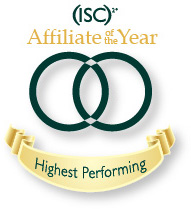 Firebrand Training has been named as "Highest Performing Affiliate of the Year – EMEA" by ISC2. The major security association helps companies recognise organisations and individuals who are knowledgeable in security through the CISSP, CSSLP and SSCP training.
Firebrand Training is an Authorized Provider of ISC2 training. W. Hord Tipton, Executive Director of ISC2, stated: "This award represents Firebrand as the top performer for ISC2...for the EMEA region."