Overview
Get EC-Council Certified Incident Handler (ECIH) v2 certified in just three days and get the skills you need to be an expert in incident management, handling and response.
100% compliant with the NICE 2.0 & CREST Frameworks, the ECIH certification is internationally recognised - giving you valuable credibility in incident management. You'll learn how to identify, control and recover from cyber security attacks on this hands-on accelerated course.
Get 50% more training time than traditional 9-5pm courses. Using Firebrand's unique Lecture | Lab | Review technique, you'll spend more time practicing techniques to detect and respond to current cyber security threats.
On this accelerated ECIH certification course you'll learn:
Structured incident handling and first response plans and procedures
Forensic readiness, evidence gathering and analysis
Incident validation, escalation procedures and writing incident reports
Incident containment and systems recovery
You'll sit your ECIH exam during the course, just steps away from the classroom. As an official EC-Council partner, you'll learn from an EC-Council ECIH certified instructor and benefit from official EC-Council courseware and labs.
This accelerated ECIH course is perfect if you're an incident handler, risk assessment administrator, pen tester, cyber forensic investigator, vunerability assessment auditor, system administrator, system engineer, firewall administrator or network manager.
ECIH v2 was created using job task analysis related to incident handling and incident first responder roles and meets industry-wide incident handling standards.
9x Accredited Training Centre of the Year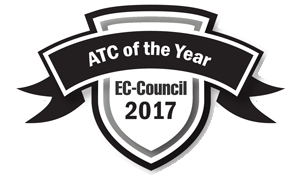 Firebrand Training has again won the EC-Council Accredited Training Centre of the Year Award, from a Training Partner network that has more than 700 training centres across 107 countries. This extends a record-breaking run of successive awards to nine years.
Jay Bavisi, President of EC-Council said: "The annual EC-Council Awards highlights the commitment and achievements of our global partners and trainers that have contributed to the information security community."