Overview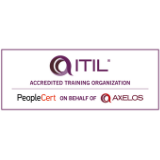 Achieve your ITIL V4 Foundation certification on Firebrand Training's accelerated 2-day course. Develop the skills to successfully transform your organisation and take advantage of information technology in the modern service economy.
ITIL (IT Infrastructure Library ®) is the only consistent and comprehensive documentation of best practice for IT Service Management. It provides a framework to support organisations in improving their tech-enabled products. Learn to utilise and adapt to different aspects of digitisation in the business world with AXELOS' ITIL 4 Foundation certification.
In 2 days, you'll learn how to:
Key concepts in the ITIL 4 framework
The ITIL service value system
The four dimensions of service management
ITSM
The seven guiding principles of ITIL 4
This accelerated ITIL Foundation course is delivered by ITIL consultants - experts who work with ITIL on a daily basis. Their expertise will be at your disposal over the duration of your course as they immerse you in the curriculum. With the use of our Lecture | Lab | Review technique, Firebrand offer and support your various learning needs, guaranteeing you absorb information 40% faster and return certified.
The ITIL 4 Foundation certification is a prerequisite to gaining the ITIL Practitioner certification.
Residential and Online ITIL foundation training
With Firebrand you'll learn from expert instructors to enhance your understanding of the course material. We offer both a classroom-based and ITIL foundation online training course, including everything you need to get certified in record time:
Official courseware, labs and practice exams
ITIL 4 Foundation certification exam
Accommodation, meals and snacks (for residential courses)
Build your own course
Firebrand have accelerated more than 10 ITIL training courses, including Service Capability, Service Lifecycle and Managing Across the Lifecycle. Build your own ITIL course, based on your team's specific requirements. Contact us on 080 80 800 888 to discuss building your own ITIL course.
Your ITIL foundation certificate is worth two ITIL credits towards the ITIL® Expert qualification.
ITIL® is a registered trade mark of AXELOS Limited, used under permission of AXELOS Limited. The Swirl logo™ is a trade mark of AXELOS Limited, used under permission of AXELOS Limited. All rights reserved.
ITIL® and IT Infrastructure Library® are registered trade marks of AXELOS Limited, used under permission of AXELOS Limited. All rights reserved.
Här är 8 skäl varför du ska genomföra din ITIL Foundation hos Firebrand Training:
Du blir utbildad och certifierad på bara 2 dagar. Hos oss får du din utbildning och certifiering på rekordtid, en certifering du också genomför här på plats som en integrerad del av den intensiva, accelererade utbildningen.
Allt är inkluderat. Ett engångsbelopp täcker alla kursmaterial, examen, boende och mat och erbjuder det mest kostnadseffektiva sättet att erhålla din ITIL Foundation kurs och certifiering på. Och detta utan några oannonserade ytterligare kostnader.
Du klarar ITIL Foundation certifieringen första gången eller kan gå om kursen kostnadsfritt. Det är vår garanti. Vi är säkra på att du kommer klara din certifiering första gången. Men skulle du mot förmodan inte göra det kan du inom ett år komma tillbaks, delta i hela kursen igen, och bara betala för eventuella övernattningar och din examen. Allt annat är gratis.
Du lär dig mer.Traditionella utbildningsdagar pågår kl. 09.00-16.00 med långa lunch- och fikapauser. Hos Firebrand Training får du minst 12 timmars effektiv och fokuserad kvalitetsutbildning varje dag tillsammans med din instruktör, utan vare sig privata eller arbetsrelaterade störande moment.
Du lär dig ITIL Foundation snabbare. Vi kombinerar de tre inlärningsmetoderna (Presentation|Övning|Diskussion) så att vi därigenom genomför kursen på ett sätt som säkerställer att du lär dig snabbare och lättare.
Du är i säkra händer.Vi har utbildat och certifierat 124.229 personer, vi är auktoriserad partner med alla de stora namnen i branschen och har dessutom vunnit åtskilliga utmärkelser med bland annat "Årets Learning Partner 2010, 2011, 2012, 2013 och 2015" från Microsoft Danmark och Gazelle priset 2013 - 1. plats för region Själland i Danmark med en tillväxt om 1.430% sedan 2009.
Du lär dig inte bara teorin. Vi har vidareutvecklat ITIL Foundationkursen med fler praktiska övningar som ger dig det extra du behöver för att kunna lösa praktiska problemställningar och klara din certifiering.
Du lär dig från de bästa. Våra instruktörer är de bästa i branschen och erbjuder en helt unik blandning av kunskap, praktisk erfarenhet och passion för att lära ut.