Overview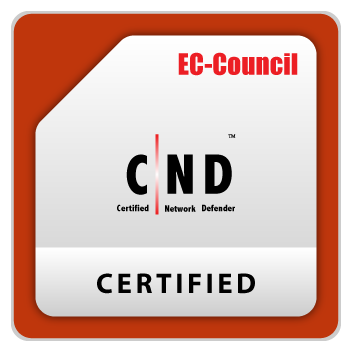 On this accelerated 4 day Certified Network Defender course you will develop your understanding of network security technologies and operations.
We live in a digital age where cyber crime poses an ever increasing threat to individuals and businesses alike. In order to prevent costly and destructive breaches, you and your organisation must be appropriately skilled and aware of the potential threats. The CND course will teach you the critical skills necessary to protect detect and respond to cyber attacks.
Your EC-Council certified instructor will employ Firebrand's unique Lecture | Lab | Review technique, making use of theoretical content as well as hands-on tasks on major network security tools and techniques. Made up of 50% practical work this course will provide network administrators with real-world expertise on current network security technologies and operations such as:
Network security controls, protocols and devices
Security policies for your organisation
Choosing appropriate firewall solution, topology and configurations
Risk and vulnerability assessment
First response to a network security incident
On this course you'll be prepared to sit the Certified Network Defender (CND) 312-38 exam. You'll sit this on-site, during the course, covered by your Certification Guarantee.
This course, which is 20% faster than traditional training, is ideal if you're a Network Administrator, Network Security Administrator, Network Security Engineer or you're involved in network operations.
9x Accredited Training Centre of the Year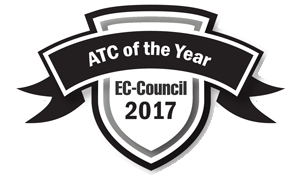 Firebrand Training has again won the EC-Council Accredited Training Centre of the Year Award, from a Training Partner network that has more than 700 training centres across 107 countries. This extends a record-breaking run of successive awards to nine years.
Jay Bavisi, President of EC-Council said: "The annual EC-Council Awards highlights the commitment and achievements of our global partners and trainers that have contributed to the information security community."
EC-Council's CND certification is accredited by the American National Standard Institute (ANSI). Organisations with ANSI accreditation are required to undergo stringent quality reviews and assessments. EC-Council is one of just a handful of certification bodies to achieve ANSI accreditation.
Här är 8 skäl varför du ska genomföra din CND hos Firebrand Training:
Du blir utbildad och certifierad på bara 4 dagar. Hos oss får du din utbildning och certifiering på rekordtid, en certifering du också genomför här på plats som en integrerad del av den intensiva, accelererade utbildningen.
Allt är inkluderat. Ett engångsbelopp täcker alla kursmaterial, examen, boende och mat och erbjuder det mest kostnadseffektiva sättet att erhålla din CND kurs och certifiering på. Och detta utan några oannonserade ytterligare kostnader.
Du klarar CND certifieringen första gången eller kan gå om kursen kostnadsfritt. Det är vår garanti. Vi är säkra på att du kommer klara din certifiering första gången. Men skulle du mot förmodan inte göra det kan du inom ett år komma tillbaks, delta i hela kursen igen, och bara betala för eventuella övernattningar och din examen. Allt annat är gratis.
Du lär dig mer.Traditionella utbildningsdagar pågår kl. 09.00-16.00 med långa lunch- och fikapauser. Hos Firebrand Training får du minst 12 timmars effektiv och fokuserad kvalitetsutbildning varje dag tillsammans med din instruktör, utan vare sig privata eller arbetsrelaterade störande moment.
Du lär dig CND snabbare. Vi kombinerar de tre inlärningsmetoderna (Presentation|Övning|Diskussion) så att vi därigenom genomför kursen på ett sätt som säkerställer att du lär dig snabbare och lättare.
Du är i säkra händer.Vi har utbildat och certifierat 76.572 personer, vi är auktoriserad partner med alla de stora namnen i branschen och har dessutom vunnit åtskilliga utmärkelser med bland annat "Årets Learning Partner 2010, 2011, 2012, 2013 och 2015" från Microsoft Danmark och Gazelle priset 2013 - 1. plats för region Själland i Danmark med en tillväxt om 1.430% sedan 2009.
Du lär dig inte bara teorin. Vi har vidareutvecklat CNDkursen med fler praktiska övningar som ger dig det extra du behöver för att kunna lösa praktiska problemställningar och klara din certifiering.
Du lär dig från de bästa. Våra instruktörer är de bästa i branschen och erbjuder en helt unik blandning av kunskap, praktisk erfarenhet och passion för att lära ut.