Overview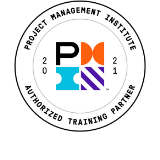 Get the PMP® (Project Management Professional) certification in just 5 days when you choose our accelerated course.
Become a professional in project management and learn how to speak and understand a global project management language, connecting you to a massive community of professionals across the world.
On this accelerated 5-day course, you'll build your knowledge fast with 12-hour learning days that utilise Firebrand's unique Lecture | Lab | Review methodology. You'll learn about the three domains, people, process and business environment, and how to:
Build and lead a team
Empower, collaborate and mentor stakeholders
Assess and manage risks
Plan and manage project scope and schedule
On this course, you'll prepare for and sit the PMI PMP® exam, covered by your Certification Guarantee.
Train with an Authorised Training Partner
Firebrand is a PMI Authorised Training Partner. As an official partner, Firebrand is able to award Professional Development Units (PDUs).
If you're new to project management, you may prefer to attend the PMI CAPM® course.
Please note: Your exam fee is not included in the course price. The exam must be requested and paid directly to PMI. This should be done at least 21 days before the course starts.
Audience
This accelerated course is ideal for experienced project managers who want to validate their expertise and gain new insights into project management.
The PMI Registered Education Provider logo, the Project Management Professional (PMP), the PMP and the PMI CAPM are a registered mark of the Project Management Institute, Inc.
Four reasons why you should sit your course with Firebrand Training
You'll be trained faster. Learn more on this 5-day accelerated course. You'll get at least 12 hours a day of quality learning time in a distraction-free environment
Your course is all-inclusive. One simple price covers all course materials, accommodation and meals – so you can focus on learning
Get Hands-on experience. Your expert instructor will deliver our unique accelerated learning methods, allowing you to learn faster and be in the best possible position to return to work with the skills you need
Study with an award-winning training provider. We've won the Learning and Performance Institute's "Training Company of the Year" three times. Firebrand is your fastest way to learn, with 134.561 students saving more than one million hours since 2001