Overview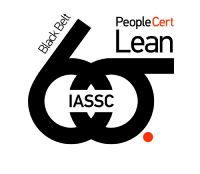 As of January 2023, Firebrand Training now offer IASSC® accredited courses as an ATO of PeopleCert.
Six Sigma is a business management strategy originally developed by Motorola, USA in 1986. Six Sigma seeks to improve the quality of process outputs by identifying and removing the causes of defects (errors) and minimizing variability in manufacturing and business processes.
It uses a set of quality management methods, including statistical methods, and creates a special infrastructure of people within the organization (e.g. "Black Belts" and "Green Belts") who are experts in these methods. Each Lean Six Sigma project carried out within an organisation follows a defined sequence of steps and has quantified financial targets (cost reduction or profit increase).
Train through Firebrand's accelerated methodology and you'll learn at twice the speed in a distraction-free environment.
During this 5-day, IASSC accredited course, you will gain a thorough understanding of all aspects of the Lean Six Sigma Method at an advanced level of proficiency and also achieve a high level of understanding of all aspects of the Lean Six Sigma method and learn the approach, concepts and tools required for business improvement. The Lean Six Sigma Black Belt certification is a Lean Six Sigma tool-kit which can be applied to real-life problems within the industry by professionals with a high-level understanding of the Lean Six Sigma method and provides delegates with the ability to successfully lead complex improvement projects to varify their abilities.
This course has been developed for managers and professionals responsible for implementing Lean Six Sigma and wishing to understand the principles in order to work more effectively. It may also be used to raise awareness of Six Sigma within an organisation or as a member of a process improvement team.
Holders of all Lean Six Sigma - IASSC® Certified Belts are required to be re-certified within 3 years from their original certification.
Audience:
Lean Six Sigma is suitable for:
Improvement Managers
Operational Line Managers
Team Managers
Project Managers
Programme Managers
Change Managers
Finance Managers
IT Managers
HR Managers
Four reasons why you should sit your course with Firebrand Training
You'll be trained and certified faster. Learn more on this 5-day accelerated course. You'll get at least 12 hours a day of quality learning time in a distraction-free environment
Your course is all-inclusive. One simple price covers all course materials, exams, accommodation and meals – so you can focus on learning
Pass first time or train again for free. Your expert instructor will deliver our unique accelerated learning methods, allowing you to learn faster and be in the best possible position to pass first time. In the unlikely event that you don't, it's covered by your Certification Guarantee
Study with an award-winning training provider. We've won the Learning and Performance Institute's "Training Company of the Year" three times. Firebrand is your fastest way to learn, with 134.561 students saving more than one million hours since 2001