Overview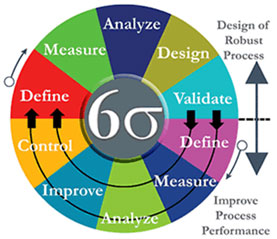 Six Sigma is a business management strategy originally developed by Motorola, USA in 1986. Six Sigma seeks to improve the quality of process outputs by identifying and removing the causes of defects (errors) and minimising variability in manufacturing and business processes.
It uses a set of quality management methods, including statistical methods, and creates a special infrastructure of people within the organization (e.g. "Black Belts" and "Green Belts") who are experts in these methods. Each Six Sigma project carried out within an organisation follows a defined sequence of steps and has quantified financial targets (cost reduction or profit increase).
Lean was originally used to describe the Toyota Production System, and is an approach used to maximise customer value whilst minimising waste. In simple terms this is creating more value for customers with fewer resources.
The Lean Six Sigma Black Belt certification is suitable for anyone looking to generate business improvements in areas such as: customer satisfaction, service delivery, cost control, process performance, & new product introduction. Lean Six Sigma is a process improvement methodology. Project and change management are ineffective without process management.
The course is designed for all business professionals from a wide variety of manufacturing or service / transactional environments. You will be involved in the deployment of Business Improvement or Green Belt projects as part of your job role / function.
The course covers both Lean and Six Sigma methodology, meaning that activities focused around the speed and quality of business processes are addressed.
Traditional Lean Six Sigma Black Belt training lasts 20 days. This normally includes a month between each module, meaning that it can take up to four months to complete. This is compared to ten days (Green + Black Belt) at Firebrand. Plus, our course contains case studies and exercises - it is not just theory.
On completion of this course you will be able to:
Understand Six Sigma and Lean and have hands-on application of the Green Belt tool-kit applied to real-life problems.
Establish meaningful business metrics that align process performance with financial performance.
Have a detailed view of Cycle Time Reduction, Process Variation and Risk Management.
Prepare an actionable plan for identifying, scoping and chartering process improvement projects and selecting the right people to execute those projects.
Lead teams in managing and preventing defects in products, processes or services.
Redesigning exisiting products, processes or services to achieve Six Sigma levels og performance over the life cycle.
Understand how an enhanced value stream can illuminate areas of opportunity through the application of Lean principles to reduce cycle time.
Apply a practical understanding of how to lead strategic change, manage a team and transfer Lean Six Sigma knowledge to develop robust breakthrough products, services and processes that perform flawlessly on launch.
Prepare an actionable plan for supporting your organisation, and tools to build continuous improvement capability that deliver substantial and meaningful business results.
A Six Sigma process is one in which 99.99966% of the products being manufactured are expected to be free of defects (3.4 defects per million).
Estimates place the quality levels of key processes in successful businesses today within the three - four sigma range. But an entire world operating at a four sigma level would incur:
At least 20,000 wrong drug prescriptions dispensed per year
Ninety-six crashes per 100,000 airline flights
Unsafe drinking water for almost one hour each month
No telephone service or television transmission for nearly ten minutes each week
A world operating at a six-sigma level would be much safer, with far fewer errors and far more happy customers.