Overview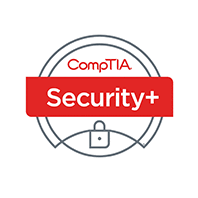 On this 4-day CompTIA Security+ course you'll learn how to troubleshoot security events and incidents, and operate within applicable policies, laws, and regulations.
Provide infrastructure, application, information, and operational security by identifying and mitigating risks. CompTIA's Security+ is a vendor neutral certification developed with input from industry, government, academia and front-line practitioners.
You'll learn about the following CompTIA Security+ topics:
Attacks, Threats, and Vulnerabilities
Architecture and Design
Implementation
Operations and Incident Response
Governance, Risk, and Compliance
Firebrand Training is an Authorized Partner of CompTIA. This means that you are guaranteed the highest level of instructor and course material, all of which is officially approved by CompTIA.
Residential or online CompTIA Security+ training course
Firebrand offers both a classroom-based and CompTIA Security+ online course, including everything you need to get certified in record time:
Official courseware, labs and practice exams
CompTIA Security+ certification exam
Accommodation, meals and snacks (for residential courses)
Both are delivered through our tried and tested Lecture | Lab | Review methodology. In this day and age, you get to choose the best one for your needs, and get your certification faster than anywhere else.