Overview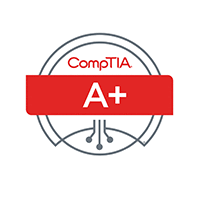 Achieve your A+ certification in just four days – that's 20% faster than traditional training. On this accelerated A+ course, you'll study official CompTIA curriculum and sit A+ exams 220-1001 (Core 1) and 220-1002 (Core 2) onsite at the Firebrand Training Centre.
Developed by CompTIA, the A+ is a comprehensive vendor-neutral certification and an ideal starting point for your career in IT. If you're already an IT professional, the CompTIA A+ certification will validate your existing skills.
On this accelerated A+ course, you'll learn how to configure and support operating systems. You'll also study the fundamentals of virtualisation, cloud computing, software troubleshooting and security.
Train at twice the speed on this official A+ course
Firebrand is an authorised CompTIA Platinum Partner. This means you'll get access to experienced instructors and up-to-date course material, officially approved by CompTIA. During your accelerated course, you'll also sit your CompTIA A+ exams.
Are you aiming to achieve the CompTIA A+ and Network+ certifications quickly? Get both certifications in just one week with Firebrand's combined A+ and Network+ course.