Overview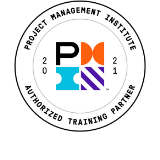 Get the PMP® (Project Management Professional) certification in just 5 days when you choose our accelerated course.
Become a professional in project management and learn how to speak and understand a global project management language, connecting you to a massive community of professionals across the world.
On this accelerated 5-day course, you'll build your knowledge fast with 12-hour learning days that utilise Firebrand's unique Lecture | Lab | Review methodology. You'll learn about the three domains, people, process and business environment, and how to:
Build and lead a team
Empower, collaborate and mentor stakeholders
Assess and manage risks
Plan and manage project scope and schedule
On this course, you'll prepare for and sit the PMI PMP® exam, covered by your Certification Guarantee.
Train with an Authorised Training Partner
Firebrand is a PMI Authorised Training Partner. As an official partner, Firebrand is able to award Professional Development Units (PDUs).
If you're new to project management, you may prefer to attend the PMI CAPM® course.
Please note: Your exam fee is not included in the course price. The exam must be requested and paid directly to PMI. This should be done at least 21 days before the course starts.
Audience
This accelerated course is ideal for experienced project managers who want to validate their expertise and gain new insights into project management.
The PMI Registered Education Provider logo, the Project Management Professional (PMP), the PMP and the PMI CAPM are a registered mark of the Project Management Institute, Inc.
Her er 4 gode grunde til at du skal tage PMP hos Firebrand:
Du bliver PMP uddannet og certificeret hurtigere. Du lærer mere på vores 6 dages accelererede kursus og får mindst 12 timers daglig uddannelse i et distraktionsfrit miljø.
Dit PMP kursus er alt-inklusiv. Du får en gennemskuelig pris, der dækker alle kursusmaterialer, eksamen, overnatning og forplejning. Du skal ikke tænke på andet end at lære.
Bestå PMP den første gang eller kom tilbage, gratis. Din instruktør er ekspert, og træner dig ud fra accelererede metoder, så du lærer hurtigere og har de bedste muligheder for at bestå eksamen første gang. Men hvis du mod forventning ikke består, er du dækket af vores Certificeringsgaranti.
Tag PMP hos en prisvindende uddannelsesleverandør. Vi har vundet adskillige udmærkelser heriblandt Microsofts "Årets Learning Partner" hele fem gange og to Børsen Gazelle priser. Firebrand er din hurtigste vej til uddannelse, og vi har sparet 70,000 deltagere for mere end en million spildte timer siden 2001.