Overview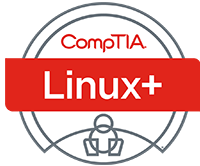 On this CompTIA Linux+ course, you'll learn how to manage, operate, configure and maintain systems and hardware within a Linux environment.
In just 6 days, you'll build knowledge on software operations, managing users, groups and services, as well as understanding Linux boot process concepts and kernel modules. You'll also learn how to:
Troubleshoot and diagnose Linux issues, including system properties, user issues, application and hardware issues
Apply security topics like as user/group permissions and ownership, access and authentication methods, Linux firewalls, and file backup, restoration and compression
Demonstrate automation and scripting skills like BASH scripts and version control using GIT
At the end of your course, you'll sit exam XK0-004 and achieve the CompTIA Linux+ certification. You'll learn from certified CompTIA instructors, as Firebrand is an Authorised Partner of CompTIA.
You'll also get access to official courseware including the Official CompTIA Linux+ Student Guide (Exam XK0-004) eBook and the Official CompTIA Linux+ Labs (Exam XK0-004) LogicalLAB.
Train through Firebrand's Lecture | Lab | Review methodology and achieve your certification at twice the speed.
Audience:
This course is ideal if you're aspiring to or are practicing any of the following roles:
Linux administrator
Network administrator
Web administrator
Technical support specialist
Systems administrator
CompTIA Linux+ is the only job-focused Linux certification covering the latest foundational skills demanded by employers.
Her er 4 gode grunde til at du skal tage hos Firebrand:
Du bliver uddannet og certificeret hurtigere. Du lærer mere på vores 6 dages accelererede kursus og får mindst 12 timers daglig uddannelse i et distraktionsfrit miljø.
Dit kursus er alt-inklusiv. Du får en gennemskuelig pris, der dækker alle kursusmaterialer, eksamen, overnatning og forplejning. Du skal ikke tænke på andet end at lære.
Bestå den første gang eller kom tilbage, gratis. Din instruktør er ekspert, og træner dig ud fra accelererede metoder, så du lærer hurtigere og har de bedste muligheder for at bestå eksamen første gang. Men hvis du mod forventning ikke består, er du dækket af vores Certificeringsgaranti.
Tag hos en prisvindende uddannelsesleverandør. Vi har vundet adskillige udmærkelser heriblandt Microsofts "Årets Learning Partner" hele fem gange og to Børsen Gazelle priser. Firebrand er din hurtigste vej til uddannelse, og vi har sparet 70,000 deltagere for mere end en million spildte timer siden 2001.