Overview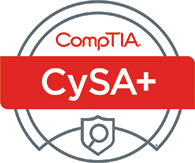 Your 4-day accelerated Cybersecurity Analyst (CySA+) certification course teaches you the knowledge and skills required to perform a host of tasks related to securing and protecting applications and systems within an organisation.
Our experienced instructors will teach you, through our unique Lecture | Lab | Review approach, to configure threat detection tools, perform data analysis and interpret the results to identify vulnerabilities, threats and risks to an organisation.
Cyber security analytics vastly improves your threat visibility by focusing on network behaviour, including an organisation's interior network. These threats are better detected through analytics.
On this accelerated CySA+ course you will focus on the following four cyber security domains:
Threat Management
Vulnerability Management
Cyber Incident Response
Security Architecture and Tool Sets
This course is aimed at cyber security professionals with at least two to three years of on-the-job experience.
The training incorporates hands-on practical work in the form of virtual labs and software tools. This approach will accelerate your learning and will help retain your new found knowledge.
The CompTIA Cybersecurity Analyst (CySA+) exam is on site and includes a performance-based assessment.
Four reasons why you should sit your CySA+ course with Firebrand Training
You'll be CySA+ trained and certified faster. Learn more on this 4-day accelerated course. You'll get at least 12 hours a day of quality learning time in a distraction-free environment
Your CySA+ course is all-inclusive. One simple price covers all course materials, exams, accommodation and meals – so you can focus on learning
Pass CySA+ first time or train again for free. Your expert instructor will deliver our unique accelerated learning methods, allowing you to learn faster and be in the best possible position to pass first time. In the unlikely event that you don't, it's covered by your Certification Guarantee
Study CySA+ with an award-winning training provider. We've won the Learning and Performance Institute's "Training Company of the Year" three times. Firebrand is your fastest way to learn, with 134.561 students saving more than one million hours since 2001