Overview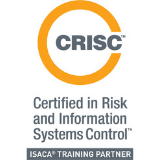 This 3-day accelerated CRISC course will improve your understanding of IT risk management, and its impact on your business. Our expert instructors will take you through how to design, implement, monitor and maintain risk-based, efficient and effective information systems controls.
You'll be immersed in the curriculum, training up to 10 hours a day, through our unique Lecture | Lab | Review technique. By the end of the course, you'll gain knowledge of enterprise risk, and know various information systems controls to mitigate this risk.
You'll also learn:
Risk identification, assessment and evaluation
Risk response
Risk monitoring
Information systems control design and implementation
Information systems control monitoring and maintenance
Firebrand is an ISACA Accredited Training Organisation (ATO). This means you'll have access to official ISACA courseware and will sit your CRISC exam during your accelerated course. Don't pass the first time? Don't worry - you'll be covered by our Certification Guarantee.
Firebrand is a premier ISACA partner for EMEA and the US. No other partner in these regions trains more students.
Residential or Online CRISC course
Firebrand offers both a classroom-based and CRISC online course, including everything you need to get certified in record time:
Official courseware, labs and practice exams
CRISC certification exam
Accommodation, meals and snacks (for residential courses)
In this day and age, you get to choose the best one for your needs, and get your certification faster than anywhere else.
Four reasons why you should sit your course with Firebrand Training
You'll be trained and certified faster. Learn more on this 3-day accelerated course. You'll get at least 12 hours a day of quality learning time in a distraction-free environment
Your course is all-inclusive. One simple price covers all course materials, accommodation and meals – so you can focus on learning
Pass first time or train again for free. Your expert instructor will deliver our unique accelerated learning methods, allowing you to learn faster and be in the best possible position to pass first time. In the unlikely event that you don't, it's covered by your Certification Guarantee
Study with an award-winning training provider. We've won the Learning and Performance Institute's "Training Company of the Year" three times. Firebrand is your fastest way to learn, with 134561 students saving more than one million hours since 2001