Overview
Your accelerated EC-Council Disaster Recovery Professional (EDRP) certification course teaches you the methods in identifying vulnerabilities and takes appropriate countermeasures to prevent and mitigate failure risks for an organisation. It also provides you with a foundation in disaster recovery principles, including:
preparation of a disaster recovery plan
assessment of risks in the enterprise
development of policies, and procedures
understanding of the roles and relationships of various members of an organisation
implementation of the plan, and recovering from a disaster
Faced with potential catastrophe caused by anything from the weather to a malicious attack, you need to ensure your company's disaster recovery plans match best practices.
Who Should Attend
The EDRP certification is aimed at:
IT Professionals in the BC/DR or System Administration domain
Business Continuity and Disaster Recovery Consultants
IT Risk Managers and Consultants
CISOs and IT Directors
Your EDRP course takes an enterprise-wide approach to developing a disaster recovery plan. You will learn how to create a secure network by putting policies and procedures in place, and how to restore a network in the event of a disaster.
9x Accredited Training Centre of the Year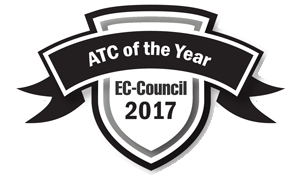 Firebrand Training has again won the EC-Council Accredited Training Centre of the Year Award, from a Training Partner network that has more than 700 training centres across 107 countries. This extends a record-breaking run of successive awards to nine years.
Jay Bavisi, President of EC-Council said: "The annual EC-Council Awards highlights the commitment and achievements of our global partners and trainers that have contributed to the information security community."
Four reasons why you should sit your EDRP course with Firebrand Training
You'll be EDRP trained and certified faster. Learn more on this 5-day accelerated course. You'll get at least 12 hours a day of quality learning time in a distraction-free environment
Your EDRP course is all-inclusive. One simple price covers all course materials, exams, accommodation and meals – so you can focus on learning
Pass EDRP first time or train again for free. Your expert instructor will deliver our unique accelerated learning methods, allowing you to learn faster and be in the best possible position to pass first time. In the unlikely event that you don't, it's covered by your Certification Guarantee
Study EDRP with an award-winning training provider. We've won the Learning and Performance Institute's "Training Company of the Year" three times. Firebrand is your fastest way to learn, with 134561 students saving more than one million hours since 2001