4.4. Monitor and Control Project Work
- The "process of tracking, reviewing and reporting the progress to meet the performance objectives"
Requires project baselines; the actions required to ensure project performance matches expectations.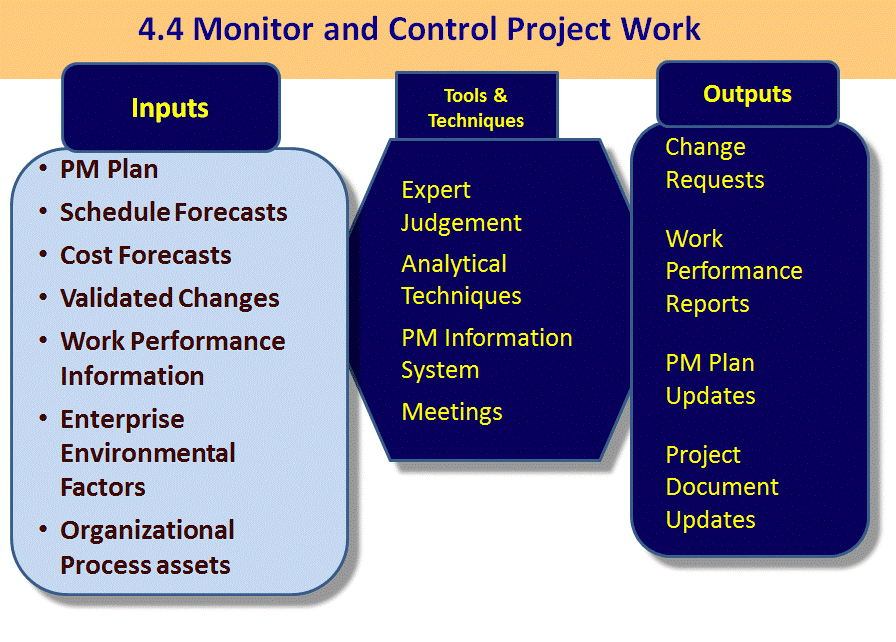 Project Management Institute, A Guide to the Project Management Body of Knowledge, (PMBOK® – Fifth Edition, Project Management Institute Inc., 2013 Figure 4-8 Page 86
- Allows stakeholders to understand:
Current state
Impact of changes
Forecasts for budget, scope and schedule
Work performed
- Also takes time to monitor risks, implemented changes and forecasting and reporting change
Inputs
- Project Management Plan
- Forecasts for Schedule and Cost
- Validated Changes
Validation of implemented actions following a change request authorisation
Confirms that they were implemented appropriately
Happens in 8.3 Control Quality (page 252)
Different to verifying the correctness of deliverables
- Work Performance Information
- Enterprise Environmental Factors
- Organizational Process assets
Question - Exercise
What are the aspects of project management, that you as a Project Manager, will monitor during their performance in the project?
Brainstorm a series of ideas - Answer is below.
Exercise Answer
- Performance Information
Actual costs and value of work performed, comparing it to forecast and actual costs
Implementation of validated changes and monitoring them
Defect repairs, impact on budget and schedule
New risks (analysis, responses); tracking monitoring existing; reporting status; implementing response plans; workarounds
Keeping and maintaining work performance data / information
Getting this together to enable 10.2 Manage Communications
- Collecting, measuring and distributing performance information
- Assessing measurements and trends
- Identifying bottlenecks or areas of concern
- Control -> corrective/preventive actions; replanning; follow up on actions already planned
Tools and Techniques
Looked at here:
Regression Analysis
Grouping Methods
Causal Analysis
Failure Mode Effect Analysis (FMEA)
Looked at later:
Fault Tree Analysis
Root Cause Analysis Forecasting Methods Reserve Analysis Trend Analysis
Earned Value Management
Variance Analysis
Regression Analysis - "An analytic technique where a series of input variables are examined in relation to their corresponding output results in order to develop a mathematical or statistical relationship"
The definition shown above in italics is taken from the Glossary of the Project Management Institute, A Guide to the Project Management Body of Knowledge, (PMBOK® Guide) – Fifth Edition, Project Management Institute Inc., 2013
Grouping Methods - Grouping data (multi parameter datasets) using computer based modelling techniques
Causal Analysis - a method of problem solving that tries to identify the root causes of faults or problems which cause operating events
Fault Tree Analysis - a top down, Deductive reasoning failure analysis in which an undesired state of a system is analysed using boolean logic to combine a series of lower- level events.
e.g. used to determine the probability of a safety accident or a particular system level (functional) failure.
Failure Mode Effect Analysis (FMEA) - Developed by reliability engineers in the 1950s to study problems that might arise from malfunctions of military systems. It Involves reviewing as many components, assemblies, and subsystems as possible to identify failure modes, and their causes and effects. A FMEA is used to structure Mitigation for Risk reduction based on either failure (mode) effect severity reduction or based on lowering the probability of failure or both