10.3 Control Communications
"The process of monitoring and controlling communications throughout the entire project life cycle to ensure the information needs of the project stakeholders are met."
The definition shown above in italics is taken from the Glossary of the Project Management Institute, A Guide to the Project Management Body of Knowledge, (PMBOK® Guide) – Fifth Edition, Project Management Institute Inc., 2013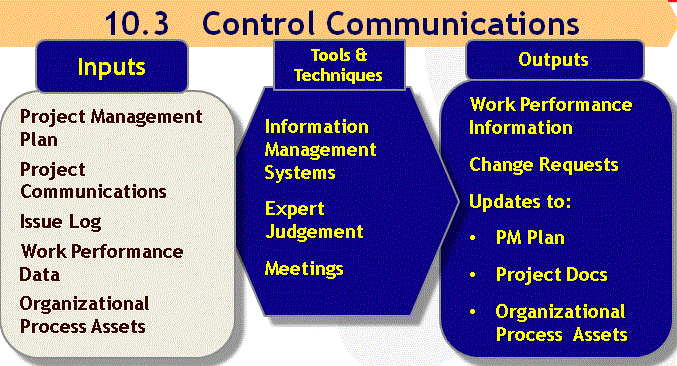 Project Management Institute, A Guide to the Project Management Body of Knowledge, (PMBOK® Guide) – Fifth Edition, Project Management Institute Inc.,
Communications
Iterative processes
Right message to the right people at the right time
Repeating previous information may be better than no message at all
Monitoring communications and their impacts, feeding through to revisions if required
Includes status reports, progress measurements and forecasts.
Tools & Techniques
Information Management Systems
Set of standard tools
Capture, story and distribute information
About costs, schedule progress and performance in the project
Reporting systems
May include tables, reports, spreadsheets, presentations, summarised analyses.
Performance Reports
Report on the
Results of analysing past performance
Analysis of actuals against baseline
Current status of the project – risks and Issues
Work completed during this reporting period
Work to be completed during next reporting period
Summary of changes approved
Performance of the project
Forecasts of the project outcome by projecting progress over time.
How to Measure Work Progress
During a team checkpoint meeting:
Ask team members for percentage complete of each work package
Actuals can be subjective
Or you could apply one of these rules on every work package
50/50
0/100
20/80
These allow for consistency but do not reflect actuals
Reporting
Can be verbal (high media richness) or written (low media richness)
a report can not reproduce visual social cues such as gestures and is a low rich communication medium
video conferencing is able to communicate gestures – high rich
Apply communication theory
Identify receiver's requirements
Clearly define objective
Give only what is needed
"Flag up" exceptions (RAG system) State problems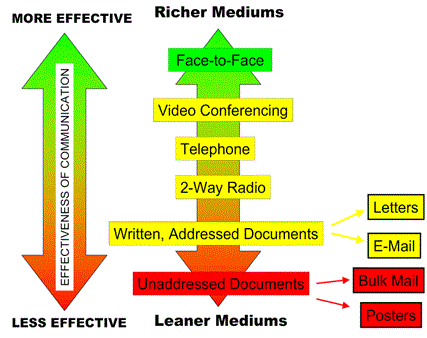 Source: http://en.wikipedia.org/wiki/Media_richness_theory
Creating a Report
Apply a logical structure which should include:
A beginning – why the report has been written
A middle, which contains the facts you have assembled and your analysis of those facts
An end, in which conclusions and recommendations are set out
A summary of conclusions and recommendations, if the report is lengthy/complex
An appendices for complex tables and lengthy supporting material
A contents – only necessary for a long report, but potentially very helpful to the reader.
Use plain words/be succinct
Advantages:
Likely to be well thought out
Can present a lot of information
Provides a record /can reach a large audience.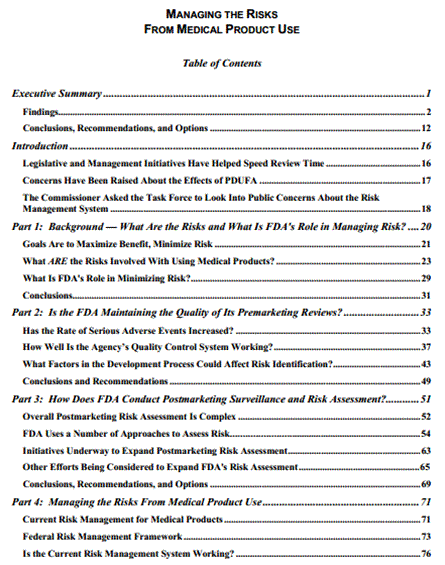 http://www.fda.gov/downloads/safety/safetyofspecificproducts/ucm180520.pdf
Performance Reporting
Reactive not proactive
Contains measurements against the performance management baseline (scope, schedule and cost baselines)
Report on performance against cost, schedule, scope and quality
Helps to forecast forward
Get feedback as well
Exam viewpoint
The reports should be truthful and not hide what is happening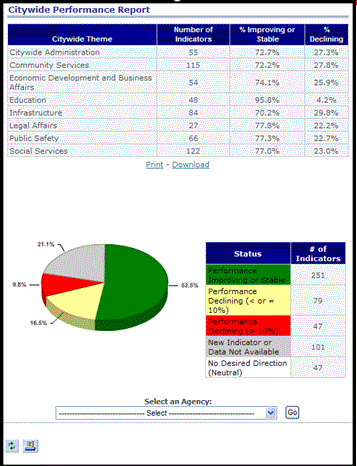 http://www.enterprise-dashboard.com/img/new-york-city-perforrmance-dashboard-Citywide-Performance-Report.png