Overview
This accelerated EC-Council Certified Security Analyst (ECSA) Practical course will give you all knowledge and skills you need to be a certified expert pen tester.
You'll learn from experienced instructors using interactive hands-on iLabs and the state-of-the-art "Open Environment" – giving you simulated experience of conducting penetration tests in the real world. Prove your knowledge with ECSA, prove your real world hands-on skills with ECSA Practical.
You'll be completely prepared for the ECSA and ECSA Practical exam with unique our Lecture | Lab | Review technique. After this course you will be able to:
Perform a comprehensive security audit of an organisation
Carry out advanced network scans beyond perimeter defences, including exploit selection, customisation, launch and post exploitation manoeuvres
Complete automated and manual vulnerability analysis
Create a professional pen-testing report
By gaining and demonstrating you have these practical skills you'll prove you're an expert pen tester.
You'll also understand all the methodology you need to pass the ECSA exam, which you'll do during your course, just steps away from the classroom. Get immersed in the most up-to-date attack vectors like SQL injection, XSS, CSRF and DoS, and learn the methodology of:
SQL Penetration Testing
Database Penetration Testing
Cloud Penetration Testing
This accelerated, all-inclusive ECSA Practical course includes GCHQ accredited courseware, the ECSA exam and an ECSA Practical exam voucher and 6 months of iLabs after the course. You'll get 24 hour support during the course as you'll live onsite with your instructor.
When you get ECSA (Practical) certified, you can apply for CREST Registered Tester (CRT) qualification equivalency - meaning you get two certifications from just one course and exam.
9x Accredited Training Centre of the Year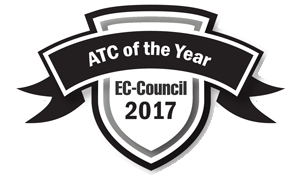 Firebrand Training has again won the EC-Council Accredited Training Centre of the Year Award, from a Training Partner network that has more than 700 training centres across 107 countries. This extends a record-breaking run of successive awards to nine years.
Jay Bavisi, President of EC-Council said: "The annual EC-Council Awards highlights the commitment and achievements of our global partners and trainers that have contributed to the information security community."