Overview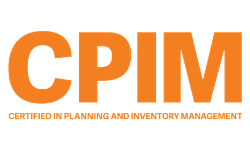 On this accelerated Certified in Production and Inventory Management (CPIM) course you'll gain the skills to become an operations expert.
In just 6 days you'll acquire a deep understanding of the following skills and how they apply across the extended supply chain:
Materials Management
Master Scheduling
Forecasting
Production Planning
At the end of this accelerated course, you'll sit the CPIM Part 1 & 2 Exams and achieve your CPIM certification.
Firebrands Lecture | Lab | Review methodology will allow you to train at twice the speed of traditional training in a distraction-free environment.
Audience
This course is perfect for professionals working in production and industry control. Once you gain your CPIM certification you'll be able to:
Increase inventory accuracy and reduce inventory
Improve forecasting
Improve the S&OP process
Manage and apply capacity resource planning
Work more productively with your company's ERP system
The APICS certification sets a global standard for outstanding professional quality in the manufacturing and service industry. With the certification, you not only gain and prove operational expertise but also understand the strategic and tactical background. They impart basic knowledge and concepts to generate strategic and tactical advantages.
To date, over 107,000 CPIM, over 21,000 CSCP and more than 1,000 CLTD certifications (since the program started in 2016) have been successfully completed worldwide.