The Piggott School visit Firebrand Training
Firebrand Training invited The Piggott School's A Level computer science class to receive talks on the IT industry. CEO, Rob Chapman, is a Piggott alumni.
In 2018, GCHQ hosted a national cyber competition for young girls to encourage them to enter the IT industry. Firebrand are a proud provider of many GCHQ Accredited courses, but that's not the only reason intrigue was manifested. The winners of the CyberFirst Girls Competition were from The Piggott School – the same secondary school Firebrand Training co-founder, Rob Chapman.

It was at The Piggott School where Rob's passion for IT started, and because of the exceptional computer science department at the school, he was able to explore and learn so much more about it: "I can't tell you today why I went to the computer club, but a proper light bulb went off in my brain. That was the point when I started to learn to program. I love computer programming."

Proud of the girls' victory, Rob approached his old secondary school and invited them to an open day, hoping to help inspire the next generation with the prospects of an IT career.

Pat Bhattacharya, Head of the Computer Science department who helped lead the winning CyberFirst Girls team, was delighted to hear from a Piggott Alumni. Plans were made, and on the 15th March, Piggott's A-level computer science class visited Firebrand's Training Centre in Wyboston.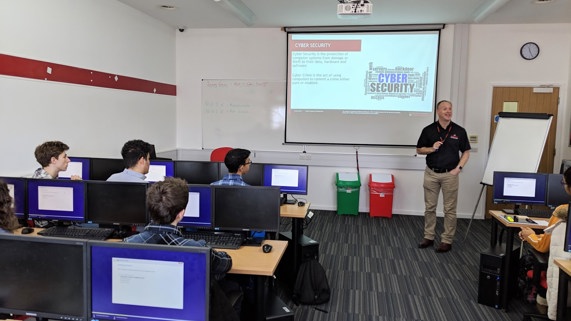 The class had a full day of talks and Q&A's with Rob and Firebrand's leading experts in the cyber security training industry. 
Rob started the day with a warm welcome. After finding out how much the school and area had changed, he explained how his foundation of computer science began at The Piggott School. He told the students about his first placement at IBM, his early career path, and how his school days led him to the career and business he has today.
The students were given an interactive talk by 
Jeremy Green
, Cyber Security Consultant for the Police and Firebrand Training. 
Jeremy showed them how easy it is to get personal details from the metadata in images and told stories from his Police and Army days of how social media can be used to track people. He taught the students different ways they could use technology to understand more about cyber security and gave them some open source technologies to start using if they wanted to expand their knowledge.

The students were then given a tour of Wyboston, Firebrand's training centre from the centre manager, Paul Templeton. Here, everyone enjoyed lunch together, continued conversing and asking any further questions about the IT industry. 
As the last spokesman of the day, 
Brian Walsh
 discussed cyber security
apprenticeships
at Firebrand Training. He spoke about the benefits of taking an IT apprenticeship, especially so young in one's career. By the end of the day one of the students, Nita, said she had never considered it before but was keen to pursue an IT apprenticeship – preferably with Firebrand. 
Brian also gave the students general encouragement in pursuing careers in IT - advising them on the ins and outs of IT and how they should prepare if they did in fact choose a career in the industry.
It is important to remember that Firebrand Training is, at its core, a hub of IT education – we endeavour to educate and inspire.
The feedback from the students and members of staff was phenomenal. Pat said: "This is definitely something we would like to do again… absolutely amazing opportunity for us - thank you".
It was a very natural decision for
Firebrand Training
to do this gesture, but more importantly it was a very encouraging experience to see young people so excited about IT and its developments.