The Minster For Skills Visited Firebrand, Here's What Happened.

We were delighted to welcome the Minister for Skills to our Training Centre at Wyboston Lakes last week. Read on to find out more about the visit!


In partnership with the Department for Education, since January 2021 we have been offering Government-funded Skills Bootcamps in digital to help close the huge nationwide skills gap and to lessen the rate of unemployment caused by the pandemic.

Minister Burghart visited our Training Centre to get a first-hand look at the Skills Bootcamps programmes in action. The Minister's visit started with a tour of our facilities by the Managing Director of Apprenticeships at Firebrand, Ben Hansford, and the Chief Learning Officer at Microsoft, Simon Lambert.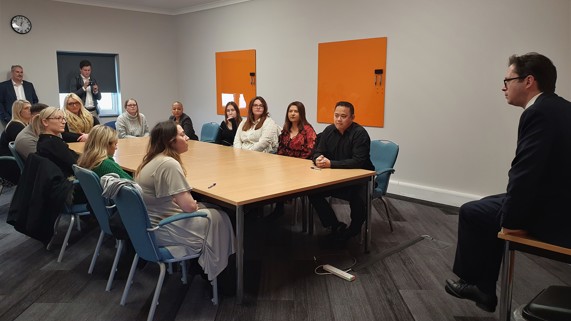 Our state of the art facility includes 9 purpose-built and fully equipped classrooms, as well as a 35-seat testing room for onsite examinations.
The Minister was then invited to join our Microsoft Software Developer virtual Skills Bootcamp group - he observed the Microsoft Certified Azure DevOps Engineer course online. The learners were all logged into the course from the comfort of their own homes and spent time answering questions from the Minister.
The Minister then had the opportunity to meet in person with some of our graduates who have recently secured full-time roles on completion of their Skills Bootcamp with Cloud Direct. Raymond Gborie (Associate Cloud Consultant), Mahbub Rahman (Associate Consultant), and Gleide Temporario​ (Associate Cloud Consultant) spoke with the Minister about their Skills Bootcamp experience.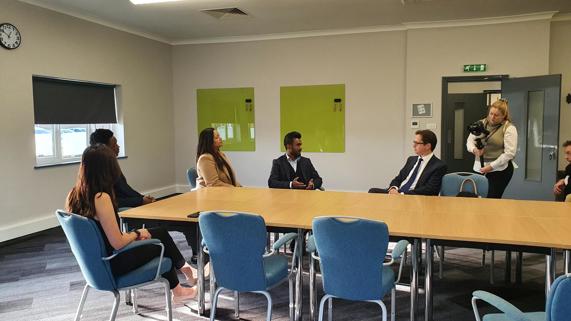 They told him how they have enjoyed the Microsoft content on the course and how delighted they were to have secured jobs at Cloud Direct as a result of the Skills Bootcamp.
The Minister was then introduced to the Head of HR and Talent from Cloud Direct, Christine Chang. She mentioned how delighted she was with the graduates they hired and how seamlessly they have settled into the business.
Mr Burghart then spoke to the Firebrand Skills Bootcamp Delivery team. Being a relatively new team, the Minister was intrigued to hear about the great work they have been achieving and their plans and ambitions as the Skills Bootcamps grow.
We could not let Minister Burghart leave without contributing to our creative colouring wall! A lasting memory of his visit and a bit of fun to round off the day. It was a pleasure to host the Minister and show him the amazing work our Skills Bootcamps team have been doing the past year.
Our Skills Bootcamps have been a roaring success so far, and it's only the beginning!