IJYI Ltd is a UK based software consultancy firm specialising in development and application lifecycle management. They came to Firebrand having identified a mid-tier resource gap within their organisation, which was slowing their rapid business expansion.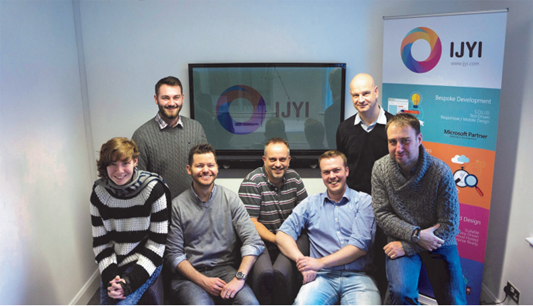 They made the decision to recruit a new staff member. By filling their skills gap, IJYI could expand their service offering to the public sector through the G Cloud Network – whilst also taking on more projects.
Having agreed the skillset required for the role it was time for IJYI to look at the recruitment options available.
Why a Firebrand Apprentice?
Following consultations with a range of Apprenticeship providers, it was Firebrand that offered what IJYI needed. Hassle free recruitment paired with a training methodology allowing the new hire to acquire the skills required, fast.
John Nicholson, Director and Architect at IJYI, explains: "We chose Firebrand for their unique approach. Accelerated learning allowed our apprentice, Jasmine, to develop the skills we required faster. Training in concentrated blocks also meant we could set work for Jasmine without the fear of interruption and project delays, unlike the traditional day release approach."
Through Firebrand's Apprentice program, Jasmine was also able achieve industry-recognised certifications including the Microsoft MTA certifications in Software Development, Database Admin and Web Development. The biggest benefit to IJYI was that this training was effectively free.
How apprenticeships pay for themselves
Whilst training to become a Junior Developer, Jasmine was able to support the team acting as the main testing resource. This not only saved up to £400 a day on fees for a testing resource, IJYI were also able to improve quality and speed at which applications were launched – reducing the need to go back and fix errors in the early development phase. Government funding also allowed IJYI to access £1000s of training at a greatly reduced cost to the business.
John concluded: "The experience with Firebrand has been fantastic. Through apprenticeships we can now develop new and existing employees faster. The certifications they earn will also help us to achieve Microsoft Gold Partner status which opens up further business opportunities."
IJYI have now enrolled an existing staff member on a Firebrand level 4 apprenticeship.
Become an apprentice employer, start by sending us a short description of your role.