Overview
The EC-Council Centre of Advanced Security Training has arrived at Firebrand Training. This three-day Advanced Penetration Testing course is intensive, and focuses on attacking and defending highly-secured environments. You will learn what it takes to hack into some of the most secure networks and applications in the world.
Warning: This is not a beginner's course. You'll spend 80% of the course in hands-on hacking labs, so you're expected to know how to hack many platforms and architectures. The course is right for you if you're a: security consultant, penetration tester, firewall administrator, system architect or system administrator.
You will learn how to:
Attack modern operating systems, such as Windows Vista, Windows 7, Windows Server 2008 and Linux servers
Identify system vulnerabilities that can be taken advantage-of by a malicious intruder
Identify vulnerabilities that exist in an unpatched operating system
Breach the security of a network or system
Test intrusion detection and response capabilities
Analyse and address your system's weaknesses, through penetration testing
Break into a highly-secured organisation from the 'outside'
Move around a network without being detected by IDS/IPS
Avoid common security features, such as: locked down desktops, GPOs, IDSs/IPSs/WAFs
How to 'pentest' high security environments, such as government agencies and financial institutions.
Note: this course doesn't include an exam, but you'll become Advanced Penetration Testing certified.
9x Accredited Training Centre of the Year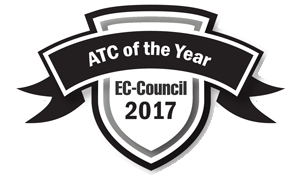 Firebrand Training has again won the EC-Council Accredited Training Centre of the Year Award, from a Training Partner network that has more than 700 training centres across 107 countries. This extends a record-breaking run of successive awards to nine years.
Jay Bavisi, President of EC-Council said: "The annual EC-Council Awards highlights the commitment and achievements of our global partners and trainers that have contributed to the information security community."
Här är 8 skäl varför du ska genomföra din CAST APT hos Firebrand Training:
Du blir utbildad på bara 3 dagar. Hos oss får du din utbildning på rekordtid.
Allt är inkluderat. Ett engångsbelopp täcker alla kursmaterial, boende och mat och erbjuder det mest kostnadseffektiva sättet att erhålla din CAST APT kurs på. Och detta utan några oannonserade ytterligare kostnader.
Du klarar CAST APT kursen första gången eller kan gå om kostnadsfritt. Det är vår garanti. Vi är säkra på att du kommer klara din kurs första gången. Men skulle du mot förmodan inte göra det kan du inom ett år komma tillbaks, delta i hela kursen igen, och bara betala för eventuella övernattningar och din examen. Allt annat är gratis.
Du lär dig mer.Traditionella utbildningsdagar pågår kl. 09.00-16.00 med långa lunch- och fikapauser. Hos Firebrand Training får du minst 12 timmars effektiv och fokuserad kvalitetsutbildning varje dag tillsammans med din instruktör, utan vare sig privata eller arbetsrelaterade störande moment.
Du lär dig CAST APT snabbare. Vi kombinerar de tre inlärningsmetoderna (Presentation|Övning|Diskussion) så att vi därigenom genomför kursen på ett sätt som säkerställer att du lär dig snabbare och lättare.
Du är i säkra händer.Vi har utbildat och certifierat 104.996 personer, vi är auktoriserad partner med alla de stora namnen i branschen och har dessutom vunnit åtskilliga utmärkelser med bland annat "Årets Learning Partner 2010, 2011, 2012 och 2013" från Microsoft Danmark och Gazelle priset 2013 - 1. plats för region Själland i Danmark med en tillväxt om 1.430% sedan 2009.
Du lär dig inte bara teorin. Vi har vidareutvecklat CAST APT kursen med fler praktiska övningar som ger dig det extra du behöver för att kunna lösa praktiska problemställningar och klara din certifiering.
Du lär dig från de bästa. Våra instruktörer på CAST APT är de bästa i branschen och erbjuder en helt unik blandning av kunskap, praktisk erfarenhet och passion för att lära ut.
Är du redo för kursen? Ta ett KOSTNADSFRITT test för att mäta och utvärdera din kunskap.