Overview
On this accelerated Check Point Certified Troubleshooting Administrator course, you'll learn the concepts and skills necessary to troubleshoot when managing the Check Point Security Management architecture and Security Gateways.
In just 2 days, you'll learn to use Check Point resources for support and gain an understanding of identity awareness, as well as:
How to perform packet captures using tcmdump and FW Monitor command tools
The basic process of kernel debugging, and how debug commands are structured
How to use various Linux commands for troubleshooting system issues
At the end of this course, you'll sit Check Point (156-580) exam, and achieve your Check Point Certified Troubleshooting Administrator certification. Firebrand's Lecture | Lab | Review methodology means you'll get access to courseware, learn from certified instructors, and train in a distraction-free environment.
Audience
This course is ideal if you are a security administrator, or Check Point resellers who need to manage and monitor issues that may occur within their Security Management environment
Check Point Course Progression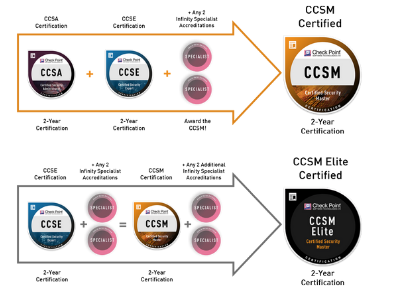 The Check Point Certified Security Administrator (CCSA) certification is the first rung on the Check Point certification ladder, once achieved, you are then eligible to take the Check Point Certified Security Expert (CCSE).
Once you are a CCSE Certification holder you have the opportunity to take any 2 Infinity Specialist Accreditations and become a Checkpoint Certified Security Master (CCSM)!
Take 2 more Infinity Specialist Accreditations after you have your CCSM Certification and you will become a Checkpoint Certified Security Master Elite (CCSM Elite), showcasing true technical mastery.
Här är 8 skäl varför du ska genomföra din hos Firebrand Training:
Du blir utbildad och certifierad på bara 2 dagar. Hos oss får du din utbildning och certifiering på rekordtid, en certifering du också genomför här på plats som en integrerad del av den intensiva, accelererade utbildningen.
Allt är inkluderat. Ett engångsbelopp täcker alla kursmaterial, examen, boende och mat och erbjuder det mest kostnadseffektiva sättet att erhålla din kurs och certifiering på. Och detta utan några oannonserade ytterligare kostnader.
Du klarar certifieringen första gången eller kan gå om kursen kostnadsfritt. Det är vår garanti. Vi är säkra på att du kommer klara din certifiering första gången. Men skulle du mot förmodan inte göra det kan du inom ett år komma tillbaks, delta i hela kursen igen, och bara betala för eventuella övernattningar och din examen. Allt annat är gratis.
Du lär dig mer.Traditionella utbildningsdagar pågår kl. 09.00-16.00 med långa lunch- och fikapauser. Hos Firebrand Training får du minst 12 timmars effektiv och fokuserad kvalitetsutbildning varje dag tillsammans med din instruktör, utan vare sig privata eller arbetsrelaterade störande moment.
Du lär dig snabbare. Vi kombinerar de tre inlärningsmetoderna (Presentation|Övning|Diskussion) så att vi därigenom genomför kursen på ett sätt som säkerställer att du lär dig snabbare och lättare.
Du är i säkra händer.Vi har utbildat och certifierat 134.561 personer, vi är auktoriserad partner med alla de stora namnen i branschen och har dessutom vunnit åtskilliga utmärkelser med bland annat "Årets Learning Partner 2010, 2011, 2012, 2013 och 2015" från Microsoft Danmark och Gazelle priset 2013 - 1. plats för region Själland i Danmark med en tillväxt om 1.430% sedan 2009.
Du lär dig inte bara teorin. Vi har vidareutvecklat kursen med fler praktiska övningar som ger dig det extra du behöver för att kunna lösa praktiska problemställningar och klara din certifiering.
Du lär dig från de bästa. Våra instruktörer är de bästa i branschen och erbjuder en helt unik blandning av kunskap, praktisk erfarenhet och passion för att lära ut.