Overview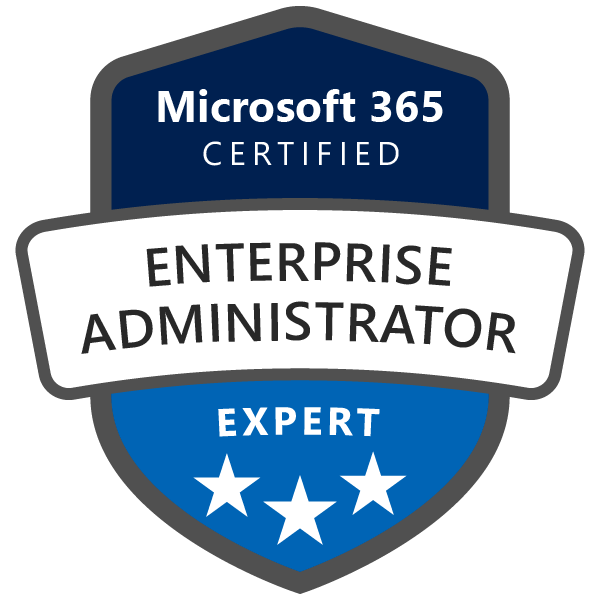 In this Microsoft 365 Certified Enterprise Administrator Expert training you'll study the skills to evaluate, plan, migrate, deploy and manage Microsoft 365 services. As an official Microsoft Learning Partner, our course follows the Microsoft Official Curriculum and includes official Microsoft practice exams.
During 7 days, you'll develop fundamental skills required of a Microsoft 365 Enterprise Admin and learn everything you need to pass the exam. Upon finishing the course, you'll be ready to take the 365 Enterprise Administrator Expert certification exam.
The course content includes:
Office 365 Management
Microsoft 365 Tenant and Service Management
Microsoft 365 Identity Management
Microsoft 365 Security Management
Microsoft 365 Compliance Management
Microsoft 365 Device Management
Your expert Microsoft Certified Trainer (MCT) will immerse you in the curriculum with our unique Lecture | Lab | Review technique, helping you to build and retain information faster. You'll also have lab access 24/7 at the training centre, so you can test your skills and make the most of your stay.
You'll also be prepared for exams MS-100: Microsoft 365 Identity and Services and MS-101: Microsoft 365 Mobility and Security. You'll sit these exams at the Firebrand Training Centre during the course, covered by your Certification Guarantee.
If you're looking develop the skills to become an Microsoft 365 Enterprise Administrator, this course is ideal for you.
Four reasons why you should sit your course with Firebrand Training
You'll be trained and certified faster. Learn more on this 7-day accelerated course. You'll get at least 12 hours a day of quality learning time in a distraction-free environment
Your course is all-inclusive. One simple price covers all course materials, exams, accommodation and meals – so you can focus on learning
Pass first time or train again for free. Your expert instructor will deliver our unique accelerated learning methods, allowing you to learn faster and be in the best possible position to pass first time. In the unlikely event that you don't, it's covered by your Certification Guarantee
Study with an award-winning training provider. We've won the Learning and Performance Institute's "Training Company of the Year" three times. Firebrand is your fastest way to learn, with 134.561 students saving more than one million hours since 2001