Overview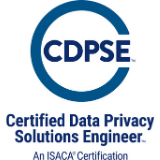 On this accelerated ISACA Credited Data Privacy Solutions Engineer (CDPSE) course, you'll learn how to create privacy solutions and be responsible for your business' privacy strategies to support its unimpeached growth.
In just 4 days, you'll learn the required technical skill-set of privacy-enhanced designs in order to build a common understanding of best practices throughout your organisation. You'll also learn to implement:
Privacy Impact Assessment (PIA)
Startegies against threats, attacks and vulnerabilities related to privacy - including encryption, hashing and de-identification
Data Inventory and classification (e.g., tagging, tracking, SOR)
CDPSE is the first experience-based, technical certification of its kind. Learning to design and boost privacy technology platforms and products will provide advantages to your customers, build trust and advance data privacy.
At the end of your course, you'll sit the CDPSE exam and get ISACA certified.
Through Firebrand's Lecture | Lab | Review methodology, you'll learn at twice the speed in a distraction-free environment. You'll also get access to official courseware and learn from certified instructors as Firebrand is an Authorised Training Partner.
Audience
If you're an IT professional interested in creating and implementing technical privacy solutions, this course is ideal for you.
Examples of IT job roles the CDPSE would be applicable to include:
Lead software engineer – data and system privacy
Privacy engineer
Privacy analyst
Privacy advisor
Consultant - security and privacy
Lead privacy manager
Security and privacy engineer
Software engineer backend privacy engineering
Engineer management - privacy engineering
Domain architect – legal care compliance, privacy
Privacy solutions architect
Information security engineer user data protection
Four reasons why you should sit your course with Firebrand Training
You'll be trained and certified faster. Learn more on this 4-day accelerated course. You'll get at least 12 hours a day of quality learning time in a distraction-free environment
Your course is all-inclusive. One simple price covers all course materials, exams, accommodation and meals – so you can focus on learning
Pass first time or train again for free. Your expert instructor will deliver our unique accelerated learning methods, allowing you to learn faster and be in the best possible position to pass first time. In the unlikely event that you don't, it's covered by your Certification Guarantee
Study with an award-winning training provider. We've won the Learning and Performance Institute's "Training Company of the Year" three times. Firebrand is your fastest way to learn, with 134.561 students saving more than one million hours since 2001