Overview
This accelerated Cisco CCNA course - Implementing and Administering Cisco Solutions - has replaced all CCDA and CCNA certifications, including the popular CCNA Routing and Switching.
The CCNA certification is now offered as 5 days in-classroom modules, and a required 3 days self-study modules. Train with Firebrand, and you'll cover all modules over a total of just 6 days, including sitting exam 200-301 CCNA. Get certified at 33% faster than traditional training.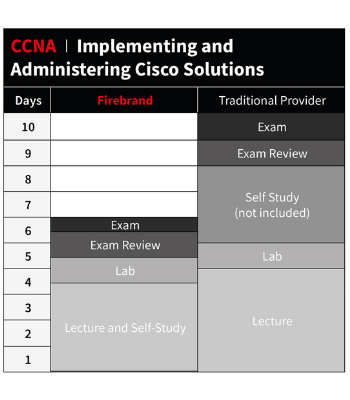 In less than a week, you'll be immersed in a broad range of IT fundamentals; from networking technologies, to security essentials, automation and programmability.
Through the CCNA certification you'll learn how to navigate network access, IP connectivity and IP services, enabling your business to be more flexible and scalable. You'll also learn the fundamentals of:
TCP/IP Internet layer, IPv4, its addressing scheme and subnetting
Implementing and verifying virtual local area networks (VLANs) and trunks
WAN, VPN and QoS concepts
At the end of the course, you'll sit exam 200-301 CCNA and achieve the Cisco Certified Network Associate certification. You'll get access to official courseware and learn from certified Cisco instructors, as Firebrand is a Cisco Learning Partner.
Audience
This course is ideal for:
Entry-level network engineers
Network administrators
Network support technicians
Help desk technicians
This Cisco certification is the starting point for your career in networking, giving you the specialist skills you need to operate Cisco equipment. This certification is an ideal follow-up to the CompTIA Network+.
Residential and Online Cisco CCNA course - Implementing and Administering Cisco Solutions
Firebrand offers both a classroom-based and Cisco CCNA online course, including everything you need to get certified in record time:
Official courseware, labs and practice exams
Cisco Certified Network Associate certification exam
Accommodation, meals and snacks (for residential courses)
The new CCNA explained
Since the 24th of February 2020, Cisco retired all existing CCDA and CCNA certifications and replaced them with the Implementing and Administering Cisco Solutions (CCNA). The popular CCNA Routing and Switching has also been retired.
Here's the full list of CCNA and CCDA certifications that have retired:
CCNA Routing and Switching
What do our customers say?
"I can definitely recommend Firebrand Training, they are talented and very professional." Thomas Jørgsen, Supergros (Microsoft certified at Firebrand Training)
"To help me Firebrand has the best instructors and a great training environment. This said it is really hard work, but the payoff is great. Thanks a lot." Søren Fleron, Solutors (Microsoft certified at Firebrand Training)
8 reasons why you should take your SAP Certified Application Associate - Financial Accounting with Firebrand Training:
You will be trained and certified in just 5 days. With us you will be trained and certified in record time. A certification you will complete at our training center as part of the intensive and accelerated training. Think you are ready for the course? Take a FREE practice test to assess your knowledge!
Everything is included. A one-off fee covers all course materials, exams, transport service, accommodation and meals and offer the most cost-effective way for you to get your training and certification. Without any additional costs.
Pass your exam first time or train again for free. This is our guarantee. We are sure you will pass your course first time. But if you don't, come back within a year, and only pay for accommodation and exams. Everything else is free.
You will learn more. A day with a traditional training provider generally runs from 9am – 5pm, with a nice long break for lunch. With Firebrand Training you'll get at least 12 hours/day of focused and distraction free quality learning time, with your instructor.
You will learn faster.We combine 3 different learning styles (Visual|Auditory|Tactile), to deliver the material in a way that ensures you will learn faster and more easily.
You will be studying with the best. We have trained and certified 134.561 professionals and we are partners with all of the big names in the business. Furthermore we have won numerous awards, among them "Microsoft Learning Partner of the year 2010, 2011, 2012 and 2013", also we´ve been awarded the regional first prize of all Gazelle companies by Børsen, having grown 1430% since 2009..
You will learn more than just the theory. We use labs, case studies and practice tests to make sure you can apply your new knowledge to the work environment. Our instructors use demonstrations and real-world experience to keep the day interesting and engaging.
You will learn from the best. Our instructors are the best in the business and offer a unique blend of expertise, experience and passion for teaching.
During your course you will take exams at our training centre which will provide you with the following certifications:
SAP Certified Application Associate - Financial Accounting with SAP ERP 6.0