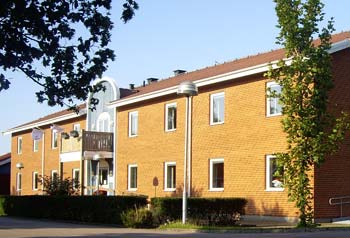 Ten kilometers south of Helsingborg, just outside Råå fiskeläge, with a lovely view of Oresund, the island of Ven and Denmark, lies Sundsgården. Here, we find Firebrand Training's Nordic training center, which offers all the facilities that our unique educational philosophy demands.
The training center is situated in fantastic surroundings near the sea, with wonderful walking paths, and offers many leisure activities, such as tennis, boule, soccer golf, beach volleyball, etc..
Our educational philosophy also demands energy. The day starts with a full breakfast in the dining room, with its fantastic view of Oresund. Later, lunch is served, always as a buffet. Our participants are treated to good, well-prepared food in ample amounts. Mornings and afternoons, good coffee and home-baked coffee bread are served. In the evening, you will enjoy dinner as the sun sets over Denmark.
Our participants stay in comfortable single rooms with shower and toilet, TV, radio, desk and, of course, bed linen and towels. WiFi is available throughout the training center.
We look forward to welcoming you to inspiring training in an inspiring environment!
Sundsgården, SE-255 92 Helsingborg