Overview
On this accelerated Check Point Certified Security Expert (CCSE) course, you'll develop the skills necessary to configure and optimally manage Check Point Next-Generation Firewalls.
In just 2 days, you'll validate your ability to build, modify, deploy, and troubleshoot Check Point Security Systems on the GAiA operating system. You'll also learn to:
Defend against network threats
Evaluate existing security policies and optimise the rule base
Monitor suspicious network activities and analyse attacks
At the end of this course, you'll sit the Check Point 156-315.80 exam, and achieve your Check Point Certified Security Expert certification . Firebrand's Lecture | Lab | Review methodology means you'll get certified at twice the speed of traditional training and get access to courseware, learn from certified instructors, and train in a distraction-free environment.
Audience
This course is ideal if you're an expert user and reseller who needs to perform advanced deployment configurations of Check Point Software Blades.
Check Point Course Progression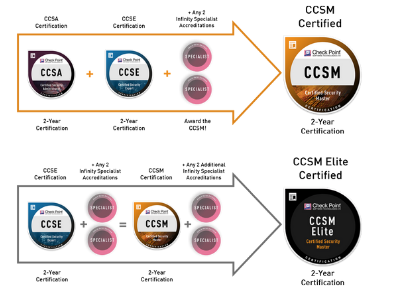 The Check Point Certified Security Administrator (CCSA) certification is the first rung on the Check Point certification ladder, once achieved, you are then eligible to take the Check Point Certified Security Expert (CCSE).
Once you are a CCSE Certification holder you have the opportunity to take any 2 Infinity Specialist Accreditations and become a Checkpoint Certified Security Master (CCSM)!
Take 2 more Infinity Specialist Accreditations after you have your CCSM Certification and you will become a Checkpoint Certified Security Master Elite (CCSM Elite), showcasing true technical mastery.
Four reasons why you should sit your course with Firebrand Training
You'll be trained and certified faster. Learn more on this 2-day accelerated course. You'll get at least 12 hours a day of quality learning time in a distraction-free environment
Your course is all-inclusive. One simple price covers all course materials, exams, accommodation and meals – so you can focus on learning
Pass first time or train again for free. Your expert instructor will deliver our unique accelerated learning methods, allowing you to learn faster and be in the best possible position to pass first time. In the unlikely event that you don't, it's covered by your Certification Guarantee
Study with an award-winning training provider. We've won the Learning and Performance Institute's "Training Company of the Year" three times. Firebrand is your fastest way to learn, with 108.394 students saving more than one million hours since 2001