Overview

As a Certified Cyber Forensics Professional you'll understand and show competence in established disciplines as well as new challenges, such as mobile forensics, cloud forensics and anti-forensics.
The CCFP certification demonstrates your expertise in forensic techniques and procedures. With your knowledge, you'll be able to present complete and reliable digital evidence admissible to a court of law.
You'll learn about the six domains of CCFP:
Legal and Ethical Principles
Investigations
Forensic Science
Digital Forensics
Application Forensics
Hybrid and Emerging Technologies
The certification also indicates your ability to apply forensics to e-discovery, malware analysis and incident response. On the CCFP course you'll get hands-on experience and prepare a report on evidence analysis at the end.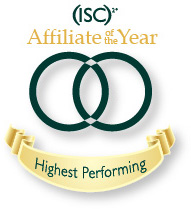 Highest Performing Affiliate of the Year
Firebrand Training has been named as "Highest Performing Affiliate of the Year – EMEA" by (ISC)2. The major security association helps companies recognise organisations and individuals who are knowledgeable in security through all (ISC)2 certifications.
Firebrand Training is an Authorized Provider of (ISC)2 certifications. W. Hord Tipton, Executive Director of (ISC)2, stated: "This award represents Firebrand as the top performer for (ISC)2...for the EMEA region."
Zeven redenen waarom jij voor jouw CCFP cursus voor Firebrand kiest:
Jij zal in slechts 5 dagen CCFP gecertificeerd zijn. Doordat onze cursussen residentieel zijn kunnen wij langere lesdagen aanbieden en zal je tijdens je verblijf volledig gefocust zijn op jouw cursus
Onze CCFP cursus is all-inclusive. Cursusmaterialen, accommodatie en maaltijden zijn inbegrepen.
Slaag de eerste keer voor CCFP of train gratis opnieuw.Op basis van onze certificeringsgarantie kun je voor het geval je de eerste keer niet slaagt binnen een jaar terugkomen en opnieuw trainen. Je betaalt dan alleen voor accommodatie en examens. De andere kosten zijn inbegrepen.
Je zal meer over CCFP leren. Waar opleidingen elders doorgaans van 9:00 tot 17:00 duren, kan je bij Firebrand Training rekenen op 12 uur training per dag!
Je zal CCFP sneller beheersen. Doordat onze cursussen residentieel zijn word je in korte tijd ondergedompeld in de theorie. Hierdoor zal je volledig gefocust zijn op de cursus en zal je sneller de theorie en praktijk beheersen.
Je zal voor CCFP studeren bij de beste training provider. Firebrand heeft het Q-For kwaliteitlabel, waarmee onze standaarden en professionaliteit op het gebied van training erkend worden. We hebben inmiddels 103262 professionals getraind en gecertificeerd!
Je gaat meer doen dan alleen de cursusstof van CCFP bestuderen. We maken gebruik van laboratoria, case-studies en oefentests, om ervoor te zorgen dat jij jouw nieuwe kennis direct in jouw werkomgeving kan toepassen.