Overview
The EC-Council Centre of Advanced Security Training has arrived at Firebrand Training. This three-day Advanced Network Defense course is intensive, and will make you think like a hacker. You will learn how to defend against the latest attacks.
Warning: This is not a beginner's course. You'll be expected to know how to attempt attacks against many platforms and architectures. The instructor will challenge you to attack a device or system, then you will learn how to defend against it. The course is right for you if you're a: firewall administrator, system architect, or system / Windows administrator.
You will learn:
How to identify security weaknesses in computer systems or networks, before it's too late
How to use hacking and pen testing to defend against various attacks
Best practices in developing secure system and network configurations
How to deploy machines in a protected state
Techniques critical to the protection of your entire enterprise against some of today's most advanced threats
How to detect malware
Note: this course doesn't include an exam, but you'll become Advanced Network Defense certified.
9x Accredited Training Centre of the Year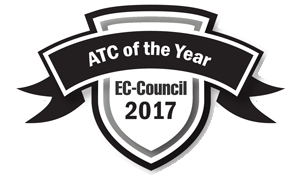 Firebrand Training has again won the EC-Council Accredited Training Centre of the Year Award, from a Training Partner network that has more than 700 training centres across 107 countries. This extends a record-breaking run of successive awards to nine years.
Jay Bavisi, President of EC-Council said: "The annual EC-Council Awards highlights the commitment and achievements of our global partners and trainers that have contributed to the information security community."
Zeven redenen waarom jij voor jouw CAST AND cursus voor Firebrand kiest:
Jij zal in slechts 3 dagen CAST AND gecertificeerd zijn. Doordat onze cursussen residentieel zijn kunnen wij langere lesdagen aanbieden en zal je tijdens je verblijf volledig gefocust zijn op jouw cursus
Onze CAST AND cursus is all-inclusive. Cursusmaterialen, examens, accommodatie en maaltijden zijn inbegrepen.
Slaag de eerste keer voor CAST AND of train gratis opnieuw. Vraag naar de voorwaarden van onze certificeringsgarantie bij onze Education Consultants.
Je zal meer over CAST AND leren. Waar opleidingen elders doorgaans van 9:00 tot 17:00 duren, kan je bij Firebrand Training rekenen op 12 uur training per dag!
Je zal CAST AND sneller beheersen. Doordat onze cursussen residentieel zijn word je in korte tijd ondergedompeld in de theorie. Hierdoor zal je volledig gefocust zijn op de cursus en zal je sneller de theorie en praktijk beheersen.
Je zal voor CAST AND studeren bij de beste training provider. Firebrand heeft het Q-For kwaliteitlabel, waarmee onze standaarden en professionaliteit op het gebied van training erkend worden. We hebben inmiddels 114054 professionals getraind en gecertificeerd!
Je gaat meer doen dan alleen de cursusstof van CAST AND bestuderen. We maken gebruik van laboratoria, case-studies en oefentests, om ervoor te zorgen dat jij jouw nieuwe kennis direct in jouw werkomgeving kan toepassen.