Lean Six Sigma Training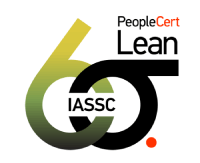 Six Sigma is a business management strategy - originally developed by Motorola in 1986 - that seeks to improve the quality of process outputs by identifying and removing the causes of defects and reducing variability in those processes.
The strategy utilises a set of quality management methods, including statistical methods, and creates an infrastructure of people within the organisation (Black Belts and Green Belts) who are experts in these methods. Each Six Sigma project follows a defined sequence of steps and has quantified financial targets – like reducing cost or increasing profit.
Lean Six Sigma is the Six Sigma business management strategy combined with Lean – a methodology based on two principles: continuous improvement and respect for people. To work effectively within an environment that utilises Lean Six Sigma, you'll benefit from building your skills through Lean Six Sigma training.
Learn fast on accelerated Lean Six Sigma courses
Achieve your Lean Six Sigma certification fast with Firebrand. Whatever level you're aiming for, you'll train at twice the speed on these accelerated courses. Every classroom course is residential and all-inclusive. At the end of the course, you will receive an exam voucher to sit the exam in the comfort of your own home or office with the PeopleCerts online proctoring service.
As of January 2023, Firebrand Training now offer IASSC® accredited courses as an ATO of PeopleCert.
Holders of all Lean Six Sigma - IASSC® Certified Belts are required to be re-certified within 3 years from their original certification.
The levels of Six Sigma
There are four levels of Six Sigma Training - Yellow Belt, Green Belt, Black Belt and Master Black Belt.
Six Sigma Yellow Belt
Yellow Belts are trained in the basics of Lean Six Sigma, and can typically carry out performance improvements within their teams.
Six Sigma Green Belt
Green Belt professionals are trained and certified at a more advanced level, in the tools and approach of Six Sigma. They tackle change within their business in addition to their other responsibilities.
Six Sigma Black Belt
A Black Belt is fluent in the use of the Six Sigma approach, tools and often delivers major performance or efficiency transformation for a business. Typically, they are Change Leaders within the business.
Six Sigma Master Black Belt
A Master Black Belt connects senior leadership teams with the change team. They are responsible for rolling out strategic change programmes using Six Sigma across the organisation. Typically, they are managers with the skills and knowledge to support, coach and mentor Green and Black Belts.