Overview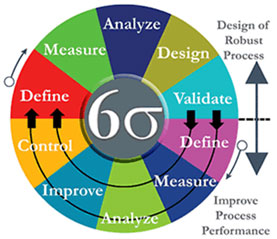 Six Sigma is a business management strategy originally developed by Motorola, USA in 1986. Six Sigma seeks to improve the quality of process outputs by identifying and removing the causes of defects (errors) and minimising variability in manufacturing and business processes.
It uses a set of quality management methods, including statistical methods, and creates a special infrastructure of people within the organization (e.g. "Black Belts" and "Green Belts") who are experts in these methods. Each Six Sigma project carried out within an organisation follows a defined sequence of steps and has quantified financial targets (cost reduction or profit increase).
The Six Sigma Green Belt certification is suitable for anyone looking to generate business improvements in areas such as: customer satisfaction, service delivery, cost control, process performance, & new product introduction. Six Sigma is a process improvement methodology. Project and change management are ineffective without process management
The course is designed for all business professionals from a wide variety of manufacturing or service / transactional environments. You will be involved in the deployment of Business Improvement or Green Belt projects as part of your job role / function.
A Six Sigma process is one in which 99.99966% of the products being manufactured are expected to be free of defects (3.4 defects per million)
Estimates place the quality levels of key processes in successful businesses today within the three - four sigma range. But an entire world operating at a four sigma level would incur:
At least 20,000 wrong drug prescriptions dispensed per year
Ninety-six crashes per 100,000 airline flights
Unsafe drinking water for almost one hour each month
No telephone service or television transmission for nearly ten minutes each week
A world operating at a six-sigma level would be much safer, with far fewer errors and far more happy customers.
The course covers both Lean and Six Sigma methodology, meaning that activities focused around the speed and quality of business processes are addressed.
8 syytä, miksi kannattaa hankkia Green Belt Firebrand Trainingiltä:
Koulutuksen ja todistuksen saaminen kestää vain 5 päivän. Meidän kanssamme saat Green Belt -koulutuksen ja -todistuksen ennätysajassa. Todistuksen ansaitset koulutuskeskuksessamme osana intensiivistä ja nopeutettua koulutusta.
Hintaan sisältyy kaikki.Kertamaksu kattaa kaikki kurssimateriaalit, kokeet, kuljetuksen, majoituksen ja ateriat ja tarjoaa kustannustehokkaimman tavan hankkia Green Belt koulutus ja todistus. Ilman mitään lisäkustannuksia.
Suorita tutkinto ensimmäisellä kerralla tai kertaa koulutus ilmaiseksi. Tämä on takuumme. Olemme varmoja, että läpäiset Green Belt -kurssin ensimmäisellä kerralla. Mutta jos näin ei käy, voit tulla takaisin vuoden kuluttua ja maksaa vain majoituksesta ja kokeista. Kaikki muu on ilmaista.
Opit enemmän.Päivä perinteisen koulutuksen tarjoajan kanssa on yleensä klo 9–17, mihin sisältyy pitkä lounastauko. Firebrand Trainingiltä saat vähintään 12 tuntia päivässä keskittynyttä ja häiriötöntä laatukoulutusaikaa opettajasi kanssa.
Opit Green Belt nopeammin. Yhdistämme 3 eri oppimistyyliä (visuaalisen|kuuloon perustuvan|kosketukseen perustuvan) tarjotaksemme materiaalin tavalla joka varmistaa, että opit nopeammin ja helpommin.
Opiskelet huippujen kanssa.Olemme kouluttaneet ja sertifioineet 76.555 ammattilaista ja olemme kumppaneita kaikkien alan suurien nimien kanssa ja olemme saaneet lukuisia palkintoja, mm. Microsoftin Danmarki Vuoden koulutuspartneri 2010, 2011, 2012 ja 2013, Institue of IT Trainingin "Training Company of the Year 2006, 2007, 2008" Englannissa, ISC(2):n "Highest Performing Affiliate of the Year 2009 & 2010 – EMEA" sekä EC-Councilin "Accredited Training Centre of the Year 2010 og 2011", "Newcomer of the Year 2011" ja "Instructors Circle of Excellence".
Opit enemmän kuin pelkän teorian. Olemme kehittäneet Green Belt kurssia edelleen käyttämällä laboratorioita, esimerkkitapauksia ja harjoittelukokeita varmistaaksemme, että osaat soveltaa uutta tietoa työympäristöön.
Opit parhailta. Ohjaajamme Green Belt kurssilla ovat alan parhaita. He tarjoavat ainutlaatuisen yhdistelmän asiantuntemusta, kokemusta ja intohimoa opetukseen.