Overview
This accelerated EC-Council Certified Security Analyst (ECSA) Practical course will give you all knowledge and skills you need to be a certified expert pen tester.
You'll learn from experienced instructors using interactive hands-on iLabs and the state-of-the-art "Open Environment" – giving you simulated experience of conducting penetration tests in the real world. Prove your knowledge with ECSA, prove your real world hands-on skills with ECSA Practical.
You'll be completely prepared for the ECSA and ECSA Practical exam with unique our Lecture | Lab | Review technique. After this course you will be able to:
Perform a comprehensive security audit of an organisation
Carry out advanced network scans beyond perimeter defences, including exploit selection, customisation, launch and post exploitation manoeuvres
Complete automated and manual vulnerability analysis
Create a professional pen-testing report
By gaining and demonstrating you have these practical skills you'll prove you're an expert pen tester.
You'll also understand all the methodology you need to pass the ECSA exam, which you'll do during your course, just steps away from the classroom. Get immersed in the most up-to-date attack vectors like SQL injection, XSS, CSRF and DoS, and learn the methodology of:
SQL Penetration Testing
Database Penetration Testing
Cloud Penetration Testing
This accelerated, all-inclusive ECSA Practical course includes GCHQ accredited courseware, the ECSA exam and an ECSA Practical exam voucher and 6 months of iLabs after the course. You'll get 24 hour support during the course as you'll live onsite with your instructor.
When you get ECSA (Practical) certified, you can apply for CREST Registered Tester (CRT) qualification equivalency - meaning you get two certifications from just one course and exam.
9x Accredited Training Centre of the Year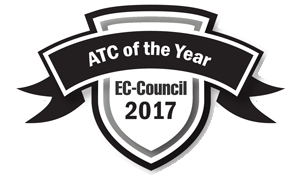 Firebrand Training has again won the EC-Council Accredited Training Centre of the Year Award, from a Training Partner network that has more than 700 training centres across 107 countries. This extends a record-breaking run of successive awards to nine years.
Jay Bavisi, President of EC-Council said: "The annual EC-Council Awards highlights the commitment and achievements of our global partners and trainers that have contributed to the information security community."
8 syytä, miksi kannattaa hankkia ECSA Practical Firebrand Trainingiltä:
Koulutuksen ja todistuksen saaminen kestää vain 5 päivän. Meidän kanssamme saat ECSA Practical -koulutuksen ja -todistuksen ennätysajassa. Todistuksen ansaitset koulutuskeskuksessamme osana intensiivistä ja nopeutettua koulutusta.
Hintaan sisältyy kaikki.Kertamaksu kattaa kaikki kurssimateriaalit, kokeet, kuljetuksen, majoituksen ja ateriat ja tarjoaa kustannustehokkaimman tavan hankkia ECSA Practical koulutus ja todistus. Ilman mitään lisäkustannuksia.
Suorita tutkinto ensimmäisellä kerralla tai kertaa koulutus ilmaiseksi. Tämä on takuumme. Olemme varmoja, että läpäiset ECSA Practical -kurssin ensimmäisellä kerralla. Mutta jos näin ei käy, voit tulla takaisin vuoden kuluttua ja maksaa vain majoituksesta ja kokeista. Kaikki muu on ilmaista.
Opit enemmän.Päivä perinteisen koulutuksen tarjoajan kanssa on yleensä klo 9–17, mihin sisältyy pitkä lounastauko. Firebrand Trainingiltä saat vähintään 12 tuntia päivässä keskittynyttä ja häiriötöntä laatukoulutusaikaa opettajasi kanssa.
Opit ECSA Practical nopeammin. Yhdistämme 3 eri oppimistyyliä (visuaalisen|kuuloon perustuvan|kosketukseen perustuvan) tarjotaksemme materiaalin tavalla joka varmistaa, että opit nopeammin ja helpommin.
Opiskelet huippujen kanssa.Olemme kouluttaneet ja sertifioineet 111.290 ammattilaista ja olemme kumppaneita kaikkien alan suurien nimien kanssa ja olemme saaneet lukuisia palkintoja, mm. Microsoftin Danmarki Vuoden koulutuspartneri 2010, 2011, 2012 ja 2013, Institue of IT Trainingin "Training Company of the Year 2006, 2007, 2008" Englannissa, ISC(2):n "Highest Performing Affiliate of the Year 2009 & 2010 – EMEA" sekä EC-Councilin "Accredited Training Centre of the Year 2010 og 2011", "Newcomer of the Year 2011" ja "Instructors Circle of Excellence".
Opit enemmän kuin pelkän teorian. Olemme kehittäneet ECSA Practical kurssia edelleen käyttämällä laboratorioita, esimerkkitapauksia ja harjoittelukokeita varmistaaksemme, että osaat soveltaa uutta tietoa työympäristöön.
Opit parhailta. Ohjaajamme ECSA Practical kurssilla ovat alan parhaita. He tarjoavat ainutlaatuisen yhdistelmän asiantuntemusta, kokemusta ja intohimoa opetukseen.