Overview
Brug dine Microsoft Vouchers
Dit kursus kan være langt billigere hvis din organisation har SA Vouchers. Uddannelseskuponerne kan anvendes efter eget valg til et stort udvalg af officielle Microsoft kurser hos Firebrand. Tal med en Firebrand uddannelsesrådgiver, hvis du vil vide mere Kontakt os.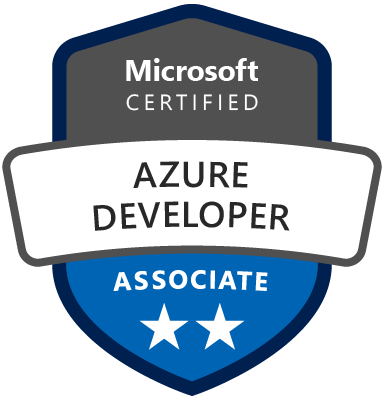 On your 4-day accelerated Azure Developer Associate certification course, you'll get the skills and knowledge you need to be a successful Cloud Developer. You'll learn to design and build cloud applications and services, working with cloud DBAs, admins and solutions architects to implement the solutions.
Your expert Microsoft Certified Trainer (MCT) will immerse you in the curriculum with Firebrand's unique Lecture | Lab | Review technique, helping you to build and retain information faster. You'll also have 24/7 lab access at the training centre, so you can test your skills and make the most of your stay.
You'll also learn how to:
Select the appropriate Azure technology development solution
Develop for Azure storage
Develop Azure Platform as a Service solutions
Implement security in Azure development solutions
Develop for an Azure Cloud Model
Implement Azure development integration Solutions
Develop Azure Cognitive Services, Bot, and Iot Solutions
Residential and Online Microsoft Azure Developer Associate training
Firebrand offers both a classroom-based and Microsoft Azure developer associate online course, including everything you need to get certified in record time:
Official courseware, labs and practice exams
AZ-204: Developing Solutions for Microsoft Azure
Accommodation, meals and snacks (for residential courses)
You'll benefit from the latest Microsoft courseware and practice papers, as Firebrand is a Microsoft Learning Partner.
You'll also be prepared for exam AZ-204: Developing Solutions for Microsoft Azure. You'll sit this exam during the course, covered by your Certification Guarantee.
This course is ideal for you if you're an Azure Developer looking to:
design and build cloud solutions such as applications and services
participate in all phases of development across design, development, deployment, testing and maintenance
partner with cloud solutions architects, DBAs and admins, to implement the solution
Her er 4 gode grunde til at du skal tage Azure Developer Associate hos Firebrand:
Du bliver Azure Developer Associate uddannet og certificeret hurtigere. Du lærer mere på vores 6 dages accelererede kursus og får mindst 12 timers daglig uddannelse i et distraktionsfrit miljø.
Dit Azure Developer Associate kursus er alt-inklusiv. Du får en gennemskuelig pris, der dækker alle kursusmaterialer, eksamen, overnatning og forplejning. Du skal ikke tænke på andet end at lære.
Bestå Azure Developer Associate den første gang eller kom tilbage, gratis. Din instruktør er ekspert, og træner dig ud fra accelererede metoder, så du lærer hurtigere og har de bedste muligheder for at bestå eksamen første gang. Men hvis du mod forventning ikke består, er du dækket af vores Certificeringsgaranti.
Tag Azure Developer Associate hos en prisvindende uddannelsesleverandør. Vi har vundet adskillige udmærkelser heriblandt Microsofts "Årets Learning Partner" hele fem gange og to Børsen Gazelle priser. Firebrand er din hurtigste vej til uddannelse, og vi har sparet 70,000 deltagere for mere end en million spildte timer siden 2001.