Overblik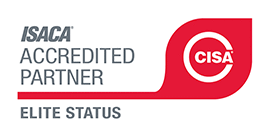 Målet med vores 4 dages accelererede program for CISA Certificeringen er at give IT-professionelle den nødvendige viden og færdighed til at arbejde med IS revision, kontrol og sikkerhed.
Få din ISACA CISA certificering på kun 4 dage.
De tekniske færdigheder og rutiner, som du lærer på CISA uddannelsesprogrammet giver dig fundamentet for succes indenfor området. Når du har en CISA certificering kan du dokumentere din viden og med en stadigt voksende efterspørgsel efter IT sikkerhedsfolk er CISA blevet en af de allermest efterspurgte og anerkendte uddannelses- og certificerings programmer.
Hos Firebrand ved vi, at din tid er værdifuld. Det er derfor, vi giver dig mulighed for at få din CISA certificering på kun 4 dage. Vi giver dig de bedste muligheder for at lære.
Med os på din side, mens vi opmuntrer og guider dig på rette vej, kan du glæde dig til 4 intense, fokuserede dage med kvalitets træning i et distraktionsfrit miljø. Din ekspert instruktør vil arbejde med Readynez's unikke accelererede indlæringsmetoder, som stiller dig bedst muligt i forhold til at lære og fastholde viden.
Når du tager Firebrand's CISA uddannelsesprogram, betyder det, at:
Du får flere timers uddannelse pr dag. Derfor bliver du uddannet hurtigere og mere omkostningseffektivt end du kan blive nogle andre steder. 
Du bliver uddannet af een af verdens førende eksperter. 
Du kan fokusere fuldstændig på din læring i vores distraktionsfrie miljø. 
Du får dedikeret onsite support og adgang til undervisningslokalet døgnet rundt. 
Exclusive: Sit your CISA exam on this accelerated course
Firebrand is an ISACA Accredited Training Organisation (ATO). This means you'll have access to official ISACA courseware and will sit your CISA exam at the Firebrand Training Centre during your accelerated course. If you don't pass your CISA exam first time, don't worry, you'll be covered by your Certification Guarantee.
Her er 4 gode grunde til at du skal tage CISA hos Firebrand:
Du bliver CISA uddannet og certificeret hurtigere. Du lærer mere på vores 6 dages accelererede kursus og får mindst 12 timers daglig uddannelse i et distraktionsfrit miljø.
Dit CISA kursus er alt-inklusiv. Du får en gennemskuelig pris, der dækker alle kursusmaterialer, eksamen, overnatning og forplejning. Du skal ikke tænke på andet end at lære.
Bestå CISA den første gang eller kom tilbage, gratis. Din instruktør er ekspert, og træner dig ud fra accelererede metoder, så du lærer hurtigere og har de bedste muligheder for at bestå eksamen første gang. Men hvis du mod forventning ikke består, er du dækket af vores Certificeringsgaranti.
Tag CISA hos en prisvindende uddannelsesleverandør. Vi har vundet adskillige udmærkelser heriblandt Microsofts "Årets Learning Partner" hele fem gange og to Børsen Gazelle priser. Firebrand er din hurtigste vej til uddannelse, og vi har sparet 70,000 deltagere for mere end en million spildte timer siden 2001.