Overview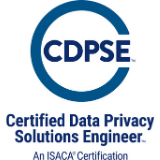 On this accelerated ISACA Credited Data Privacy Solutions Engineer (CDPSE) course, you'll learn how to create privacy solutions and be responsible for your business' privacy strategies to support its unimpeached growth.
In just 4 days, you'll learn the required technical skill-set of privacy-enhanced designs in order to build a common understanding of best practices throughout your organisation. You'll also learn to implement:
Privacy Impact Assessment (PIA)
Startegies against threats, attacks and vulnerabilities related to privacy - including encryption, hashing and de-identification
Data Inventory and classification (e.g., tagging, tracking, SOR)
CDPSE is the first experience-based, technical certification of its kind. Learning to design and boost privacy technology platforms and products will provide advantages to your customers, build trust and advance data privacy.
At the end of your course, you'll sit the CDPSE exam and get ISACA certified.
Through Firebrand's Lecture | Lab | Review methodology, you'll learn at twice the speed in a distraction-free environment. You'll also get access to official courseware and learn from certified instructors as Firebrand is an Authorised Training Partner.
Audience
If you're an IT professional interested in creating and implementing technical privacy solutions, this course is ideal for you.
Examples of IT job roles the CDPSE would be applicable to include:
Lead software engineer – data and system privacy
Privacy engineer
Privacy analyst
Privacy advisor
Consultant - security and privacy
Lead privacy manager
Security and privacy engineer
Software engineer backend privacy engineering
Engineer management - privacy engineering
Domain architect – legal care compliance, privacy
Privacy solutions architect
Information security engineer user data protection
Her er 4 gode grunde til at du skal tage hos Firebrand:
Du bliver uddannet og certificeret hurtigere. Du lærer mere på vores 6 dages accelererede kursus og får mindst 12 timers daglig uddannelse i et distraktionsfrit miljø.
Dit kursus er alt-inklusiv. Du får en gennemskuelig pris, der dækker alle kursusmaterialer, eksamen, overnatning og forplejning. Du skal ikke tænke på andet end at lære.
Bestå den første gang eller kom tilbage, gratis. Din instruktør er ekspert, og træner dig ud fra accelererede metoder, så du lærer hurtigere og har de bedste muligheder for at bestå eksamen første gang. Men hvis du mod forventning ikke består, er du dækket af vores Certificeringsgaranti.
Tag hos en prisvindende uddannelsesleverandør. Vi har vundet adskillige udmærkelser heriblandt Microsofts "Årets Learning Partner" hele fem gange og to Børsen Gazelle priser. Firebrand er din hurtigste vej til uddannelse, og vi har sparet 70,000 deltagere for mere end en million spildte timer siden 2001.